Notice-the Doty Dog Days are postponed until next weekend because of the icy conditions.
Thanks for letting us know Dan Guendert!
Greetings and welcome!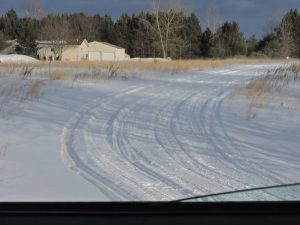 My travels today took me to the east side of High Falls Fowage, to Crivitz, and to Wausaukee. The trails along Deer Lake Rd and along Eagle Road looked very good. The trails along Hwy C, in Crivitz, and along Deer lake Rd were all freshly groomed and panned beautifully flat. The picture to the left is from Wausaukee next to Ranger City Market near the Exxon station.
We have some events coming up this weekend.
First up is Ice Bowling at Parkway Inn.
February 3, 2017 Ice Bowling Tournament, It's Cheap, It's easy, it's a great time. Pre-registration is required. Parkway Inn 715-757-3451.
I am pretty sure that the Firelane Bar's outhouse races are this Saturday, I saw the lanes set up when I went by this afternoon.
Next up is a Brat Fry with the folks at Dun-Good Riders. Check the poster for details, and the other posters for more events.
I will be at the Rapids Resort Saturday from noon till 5 or maybe later. Stop in and get your smiling faces on the Big Snow Page. The prime rib there looks really good, I might have to sample a little this weekend.
The weather for the weekend hasn't changed much since this morning. The scenario with snow showers on Friday night and light snow ( adding up to 2-3″) for Saturday noon till midnight is still there. Who wouldn't like a little frosting on the trails? I like what it says so I am going with that one.
It has been a cold week and we have 3-4″ of new snow on top of what was left last weekend. It might not be perfect but it sure looks good. Ride 'em!
Have a good night and thank you for visiting!
RJB