Greetings and welcome!
The snow yesterday and today has been a lot more impressive on radar than it is here on the ground. When I was outside a few minutes ago it looked like about an inch with a crusty top. It was a very light snow, but it fell most of the day yesterday.
Yesterday's ride took me over into the Nicolet Forest between here and Lakewood and down to Crooked lake, around the bottom of the flowages and back home. The trails were fantastic. I was amazed at the time that I was making through the woods without getting paint shakered. It got a little icy in corners between where the 2 Trail turns toward Lakewood and Crooked Lake, but it was still great.
After sunset it turned to freezing drizzle, the source of the crust on the snow. It also made for a very interesting ride home last night.
We are looking at a chance of another inch today and tonight bringing the total to 2-3″. The radar doesn't support that at the moment, but you never know.
We are still on track for a comfortable weekend. We are looking at mid-20s Friday, about 30 Saturday, and mid-30s and some precip Sunday.
The Sunday/Monday storm doesn't look very good at the moment. The models are showing the low pressure area going too far north and putting us on the warm side of the storm. The way that I am reading the GFS right now, we could see 1/2″-1″ of rain before the back of the storm brings a few inches of snow. The NWS has it starting out with some snow Sunday afternoon before changing over Sunday night and Monday. It is still 3 1/2-4 days out so that could change.
The NWS has a Winter Weather Advisory out for today warning of slippery roads and hazardous travel from the freezing drizzle and snow. Between the ice glazed roads and the local road crews' allergy to using road salt, I think any travel I do later today will be by snowmobile.
Here is another copy 'n paste of this weekend's events..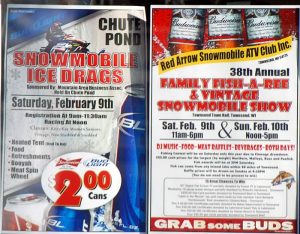 From the NEW Low Buck Vintage Riders web site..
On Saturday, February 9th, the Pemenee River Riders will hold a fundraiser Brat Fry at the Silver Dollar Bar on Hwy 141 in Pembine starting at noon. They'll have a brat lunch, raffles and prizes. Hope you can make it! The Silver Dollar is accessible by sled, atv & utv as well as car.
Please help support the trail system by supporting the clubs' fundraisers!!
I have a new event to add. Pickerel Fun Day & Schuh's Winter Plunge Jump In is Saturday the 9th. Check out Google for some video.
Until the freezing drizzle sent me home last night I was having a great time out on the trails. Ride 'em if ya got 'em!
Have a good Thursday and thank you for visiting!
RJB