Greetings and welcome!
Last night's snow that could have been an inch was not. Most of the storm went south and we ended up with a dusting.
The clipper for Friday is still on track. It looks like it is going to be a fast mover, and that could limit snow totals. The various models have us in the 1-3 band with the 3-6 band close by. The NWS has moved from 2-3 inches in the forecast to a couple of inches.  The speed of the storm passing through is a big factor.
The trails in the area bring a variety of conditions. Generally the trails north and west have better conditions.
On my ride to Athelstane I had good and bad trails. The road on the way there was a little scrapey but there was usually a snowbank to hop onto. The pipeline and woods between Landing 11 and Kosir's was thin but fully covered, and panned nice and flat. The trail behind Rustic the same way.
The trail from the split up to Brandywine was the same way. The woods after Brandywine and most of the way over to Tower Rd was nice except for a few snirty corners and rocks. The logging area past Tower was getting thin but still was good enough.
I don't remember if it was at intersection 242 or 243 that things started getting thinner. There was grass and pretty snirty trails in a lot of spots between there and town.
From the truck window last night the trails in the Nic and along F between here and Lakewood looked really nice. When I went by Sunday there was decent coverage on the golf course, and even the big hill, though the latter was thin. Last week when I rode Chickadee (F2) it was really nice.
There are trails to ride if you are willing to find them and look past some bad spots. It is actually a lot better than expected considering that we have had less than a foot of snow since the New Years meltdown.
There are ugly spots and great spots. Personally I'd go north & west and avoid high traffic areas. If I could ride today instead of working I'd either go play in the Nicolet between Silver Cliff, Lakewood, and Mountain, or I'd head north toward Goodman.
As I said yesterday, a little snow would go a long way, and a warm sunny day would make them bad. Hopefully our clipper brings a couple of inches.
These guys have been getting a lot of miles in this week..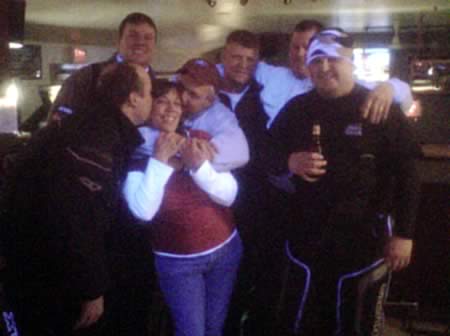 Nice to meet you guys! It was very fun.
We have a lot of events coming up this weekend.
Jan. 29-30
Saturday from 10am – 3pm and Sunday from 1pm – 6pm
Food, Fun & Raffles, Ice Bowling
Saturday, starting at 11am there will be Raffles held in the Lakewood town hall. Great food will be served with your favorite beverages. Sundays event will be held at Firelite Lounge in Lakewood  starting at 1pm, there will be raffles  all day with the big drawing for $1000.00 dollars at 5pm.
This is their big fundraiser for the year, so please support them!
Jan. 29
11th Annual Caldron Flowage Snowmobile Radar Run & Fish-o-Ree
Caldron Lake off of Boat Landing #9 – 8am – 4pm
1000? track, $100 cash top speed, trophies for all classes
Food, Refreshments, Raffles, DJ, Heated Tent
Sponsored by Thornton's Resort – proceeds benefit Town of Stephenson Vol. Fire Dept
Jan. 29
Lumberjack Memorial Snowmobile Rally
10 am – 6 pm at Nicolet Trail behind Citgo in Wabeno
Jan. 29-30
Chute Pond Snowmobile Club
Women Only Snowmobile Ride
Leaving from Everbreeze Resort on Chute Pond and Riding to Laona and back
Click here for details
Jan. 27-30
Hosted by the National Multiple Sclerosis Society – Wisconsin Chapter
Join us for this fun, three-day event, snowmobiling through beautiful Northern Wisconsin. Ride and make an extraordinary difference in the lives of people living with MS.
For further details or to register on line, visit our website
************************
I recall seeing a poster that Dockside is having a poker run, and the newspaper had The Laona Lions doing their first annula Winter Warmup at the Community Building. The will have food, drink, soup, and live music. The fruitcake toss sounds fun too.
The Snow Fun Weekend in Lakewood with the Paul Bunyan Riders is their major fundraiser for the year. The paper said that the AWSC  Miss Snowflake will be there Saturday too.
Right now I am getting a little less fussy about what I am willing to ride. The GFS reaches out to February 12th and shows no break in this pattern of only an inch or two here and there. If anything it gets worse. As February comes, so does the sun. Without snow to keep up with sun melt and the occasional warm day, it might be a short season.
Have a good Thursday and thank you for visiting!
RJB