Greetings and welcome!
It is the Tuesday morning after deer hunting season has closed, and the world around here is in for some big changes. Between now and when the trails open it gets pretty quiet for tourism.
Another big change is that I am getting very close to my regular updates here for the winter. I still have a big hill to climb to get ready for it, but December 1st (Next Saturday!!) trails can open in the UP, and 12/15 they can open around here. Agricultural areas east of here usually can't open until after the 1st of the year.
Current conditions.. We had a couple of warm days Fri & Saturday, and it rained Friday night and most of the day Saturday, though it didn't amount to that much actual rainfall. The combination took away most of our snow. The ground is still frozen, but the top inch or two was muddy Saturday. That has all refrozen since. Right now it is 21 degrees at 10an Tuesday.  I still have not scouted the lakes yet, so I have no update on that.
Our weather in much of November was 10-20 degrees below normal. We had quite a few single digit nights, and one just below zero. I still consider us to have a very nice head start on freezing stuff up.
That was a really wicked winter storm spanking northern IL and far SE WI. There was a big swath of blizzard warnings. Some places had 10″ plus of snow and winds peaking to 40 or 45mph. Some snowfall rates were 2-3″ per hour. Yowza. That had to make a rough Monday for a couple of million people.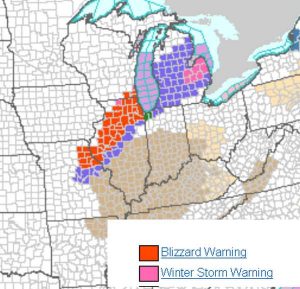 The NWS takes the blizzard criteria pretty seriously..
Blizzard Warning-Issued for winter storms with sustained or frequent winds of 35 mph or higher with considerable falling and/or blowing snow that frequently reduces visibility to 1/4 of a mile or less. These conditions are expected to prevail for a minimum of 3 hours.
If you get a blizzard warning it is serious stuff.
We did not get any snow from the big storm that hit so many of our friends to the south. At the moment the ground is mostly bare. We did get the cold wave and wind that comes behind big storms, and that has some lake effect flurries falling. East of Marquette they are getting a pretty good dose of lake effect snow.
Our next chance of snow is Wednesday night into Thursday. Depending on which forecast model I use we could see 1-3″. There is another storm coming for the weekend, but right now that is showing up closer to the path of Sunday night's storm.
As we all know I am a fan of getting a nice frost into the ground and a lid on the lakes before it snows a lot. So far it is going according to my script. If I got to write the rest of the cartoon, we would freeze up until about December 5th, followed by a 12″ snow,  a bit of a thaw to firm up the base once the trails are packed, and two 6″ snows a couple of days later. Dreams are free, I might as well make 'em good ones.
One last thought, join a club and get the trail pass process started. The club needs to get you an AWSC number, and then you get the cheap trail passes. Since most clubs are staffed by overworked volunteer secretaries, getting that number takes a little time. I sent in my first of several membership forms earlier this week.
Well I have a date with a couple of cords of wood that I need to cut and split before it snows. Have a good week and thank you for visiting!
RJB