Greetings and welcome!
Judging by the amount of riders that went past the house we had a moderately busy weekend last weekend. Thanks to the groomer' hard work and some cooperation from the weather most riders found better than expected trail conditions.
The trails that I saw on the way to and from Crivitz Monday all looked pretty nice. I am amazed that the groomers could cut through the ruts and whoopties formed when it was soft and then frozen in and rained on. The trail that they left behind looked great.
We have some colder weather ahead for the weekend, and next week it gets really cold. We look pretty comfortable through Friday with highs in the 20s. Over the weekend high temperatures are expected to drop into the teens with single digit or colder overnight low temperatures. Bring the warm gear.
Next week the forecasts have a big blast of arctic air coming our way. I told you about this cold air mass about a week ago. It got my attention because when it hit Siberia they recorded a low temperature of -87ºF. Yowza. We aren't expecting to get that cold, but I did see some -30F upper air temperatures. At one point in the 16 day GFS model the rain/snow line would go almost as far south as the Gulf of Mexico. That puts us in the heart of the cold air mass. I would expect single digit high temps and lows as cold as -20F next week. Hopefully the forecast is worse than the weather as is so often the case.
For right now we have nice trails and decent weather, and I don't see the trails going anywhere with the weather ahead.
Over the weekend I got one of the twin '94 Indy Trails into the shop. That was a challenge in itself. I had to move stuff, get the ATV running, and then drag it backwards through some pretty deep snow with the ATV on ice to get it out of the storage barn. On the second pull of the recoil rope I heard a pa-ping. Oh crap what was that. The choke lever broke off. That's an easy enough fix with a $10 kit.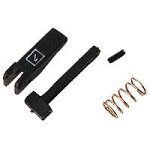 In the meantime I got it running on spray long enough to get it to run on its own, and I did get a lap around the yard before pulling it into the shop. That will get checked out in my next shop session.
My choke cable kits should be here today and Wednesday. I got one from a fellow in Rhinelander. On E-Bay he is Sledpartsguy. I ordered it Sunday, it hit the mailbox in Rhinelander Monday, and I should have it today. You can't ask for much more than that. I was really mad that I didn't have one. I used to stock these like spark plugs.
In the meantime I double checked serial numbers. They are 25 numbers apart. How that happened I don't know, but it is pretty cool.
That's it for this morning. Have a good Tuesday and thank you for visiting!
RJB