Greetings and welcome!
12:30pm-There is a lot to talk about, but the bottom line is that we have 3-4″ of really wet heavy snow when I surveyed the back yard a few minutes ago. As happened last time I might have to adjust that once I get a little farther.
Yesterday I did my usual Monday Lakewood/Townsend/Carter run on Sunday to get ahead of the weather.
Here is a chronology of yesterday/last night..
2pm-Headed for Lakewood/Townsend/Carter run to get ahead of the bad weather. It was a little late, the snow had started and the roads were starting to get white and slippery. By the time that I got to Lakewood everything was white, not much to show from trail pix. This is the only one that I took, where the trail goes into the forest a little east of Waubee Lake.
2:45pm- At the Dollar Store in Lakewood quarter sized flakes were coming fast, soon to be followed by regular fine grain snow at a good rate.
4pm- The ride back was in 4 wheel drive for sure. Maybe an inch or two down, but it was slippery.
7:30 pm- Decent snow coming fast, about 3″ down. On the way to X & Parkway some places had 4+ near the Tommy Thompson State Park.
8pm- Thought it was done, but another squall of big snow snowflakes came for an hour or so and added at least an inch, probably closer to 2″.
10pm- Snow  stopped, much warmer, drizzle and mist.
Ride home- Wow. Conditions ranged from 2-3″ of straight up slush to 5-6″ of wet heavy snow to power through, and it could totally change within a mile. Most of my ride home involved powering through at least 4″ of wet heavy snow. I took the side roads, but with the 30ish temps County road X that they had salted & plowed was just wet.
When I was on my way there the snow was not sloppy packing snow, I actually had pretty good traction. On the way back it was definitely packing snow and saturated.
Monday 12:30pm- Measured 3-4″ of really wet heavy snow and it is 36 degrees out.
Hwy 32 between Lakewood and Townsend about 3pm yesterday
A quick picture on the way home to show the flocking of the trees. Apparently between the headlights and the strong flash the new trail camera has a pretty good flash reach. I did not expect this picture to turn out.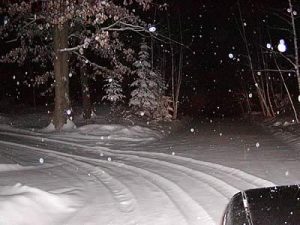 This was the picnic table out back at 12:30pm. I shoveled it yesterday so that we would be starting fresh for this storm.
Weather update and part 2 of the report..
I don't know.
How often do you hear the weatherman say that?
Right now we are at about 36 degrees as of 1pm Monday. The NWS is looking for a high of 35-39 today.
Tonight we should get below freezing with the NWS looking for 25-28º. Later at night or early tomorrow we could start seeing some light rain/freezing rain from the next system.
Tuesday the NWS is looking for a high of 37-42. Tuesday the NWS is expecting some light rain and a straight up rain shower is possible. Some areas in the southern 1/3 of the state could be 50 or warmer Tuesday. Right now there are 70s in Missouri, and no that isn't a typo.
Tomorrow's rain is the first of two systems coming our way, a double barrel low if you will. Often when those hit us the first one will be rain and a little snow, and the second brings the big dumping.
This one isn't that clear cut.. The GFS has the second storm tracking about over Chicago, and we could see 6″ plus of snow out of it. The NAM has the storm tracking farther east and the extent of the snow would only be as far north as Sheboygan or Green Bay.
So, are we going to get the 6-12 on Wednesday, get skunked, or something in between? That is the I don't know part. The other I don't know part is how much of our 3-4″ of wet heavy stuff will survive tomorrow's warm day and rain.
I am off to the work shed to mount the truck plow and clean up the driveway. It will plow like cement and I expect an ice layer under it making it more challenging. I do need to get it cleaned up, once it freezes it will be like a brick.
I am not planning on riding today. While I like the idea, and even got extra gas yesterday, I expect that my tracks would be there for a long time frozen into the base. In hopes that this does turn into a nice heavy base, I am going to stay off of the trails while it is so warm.
Have a good afternoon and thank you for visiting!
RJB