Greetings and welcome!
The door on the nice fall weather has now closed. Saturday we were in the mid-70s, today we only got into the mid-40s. We had 34 this morning and it is 36 as I type this Tuesday night.
Naturally that big of a change will come with a storm. It was mostly wind here, but we had some rain too. The winds were very strong and sounded like a roaring river as it rocked the big trees. I have to guess here but I would put it at 20-30 mph gusting to 40mph. Some areas in the UP and Door Co had stronger gusts.
From about 3-5pm the radar was showing snow in Forest Co north of about Hwy 8. Later is showed much of the western UP as getting snow. I was up near Carter and Wabeno a little before sunset and was on the watch for the first flakes. The closest that I got was some sort of slushy raindrops.
I was thinking about the wind and how important that it is to the big change to winter around here. Just like wind over the cooling fins on a motor, having 24 hours of strong winds and cold temps will take some heat out of the ground and lakes. It isn't an overnight thing, but it is a big part of the process. I have to wonder how many millions or billions of BTUs came out of the lakes and land in the last 24 hours.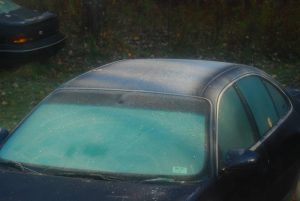 We did have some cold nights recently, but we also had a lot of 60-70 degree days that followed. That door is closed for the season the way that the GFS forecast model shows it. I don't see more than an occasional day getting much above 50 degrees any time soon.
Here is a picture of my car roof on the morning of 10-16. That day I found a 5 gallon pail that had filled with rain water and it had about 3/8″ of ice on the top.
At the end of the day we are making good progress toward cooling the ground so that it can freeze, and the same goes for the lakes and rivers.
We missed out on the snow today but there is a chance again Thursday night through Sunday. That is a slow moving Canadian storm that is cut off from Gulf of Mexico moisture initially, but it looks like it could tap into it on about Saturday. We should see our first white ground out of that storm. Right now I am looking for white grass, but won't rule out an inch or two if things go just right. There are more chances for snow next week.
The TV weather just had a bit that said that our normal high today in Green Bay is 53, and that the month has averaged 8.6 degrees above normal. Looking at their 7 day forecast, next week looks almost 10 degrees below normal.
It all feels like the door on fall is closing and the door on early winter is opening. That is good. Like the guy on FB said, only 5 more Fridays until the Michigan trails can open.
Seasonal Outlook…
I continue to be very optimistic about this winter. It has been a very unusual year in weather and I don't think that will change in the next 6 weeks. I am expecting a lot of snow, more than a few storms that are mostly rain, and both very warm and very cold stretches. While I don't expect our 9″ of rain in June to translate to nine feet of snow in January, I am hoping for the above normal precipitation trend to continue.
One recurring thought is that I don't remember the last time that we had one of those double whammy low pressure systems that brought us a 16+ inch snowstorm and high winds. I expect to see that storm happen at least once this year.
I do have some concerns that it won't be all honey and roses. The 8.6 degrees above normal for October is a little scary. If that happened in January, hooray, I don't like that -30º stuff anyway. However, in February or March it would  be bad timing for us.
I have my concerns, but overall my outlook for a good snowmobiling season is very positive.
Have a good Halloween and thank you for visiting!
RJB