Our First Big Snow!
Greetings and welcome!
It snowed a couple of inches last night. It was decent snow, not too slushy, not too puffy, and it packed down well. It didn't rain much today, but it snowed off and on all day. I would guess that we added 1-2″.
Driving home was interesting. The snow was coming down at a moderate pace and the wind was blowing it a little. Highway 141 was bare and wet, Hwy C west of there was packed down into ice and snow covered. It had been plowed, but not recently.
Coming south out of Athelstane a couple of deer ran out in front of the car. It wasn't a blazing fast run, more of a trot. I had to guess that it was slippery when the second one lost her footing on the icy road and wiped out, landing on her side.
I have a long ride to work, and I am usually up before the plows or just after their first pass. At that point I invested in some pretty aggressive winter tires for the car. Tonight they paid for themselves. The roads were pretty bad.
After I got home at about 6pm the snow really picked up. A heavy area of snow camped over us for a few hours, bringing up my back step measurements to the 4.5-6″ range. It would not surprise me if some areas had seen more. The wind was pushing it at a 45º angle, and blowing it around, so it is hard to measure. I am comfortable calling it a 5″ plus snow.
This snow took me by surprise, and apparently the professional forecasters as well. I was expecting 3, maybe 5 if it got out of hand. I am pretty sure that we will see 5-6 by the time it stops tonight.
The TV weather channel out of Green Bay has the area from central Marinette Co and south as getting 1-2″. Forest and Florence were shown in the 3-5″ range. I am not the only one that got surprised.
The soda can on the back steps trick. I'd call it 4.5-5″ there.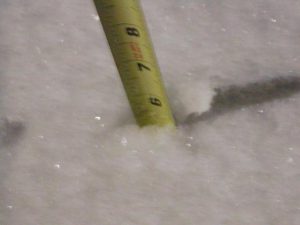 As of 9pm it is still snowing, and I would say that we have crossed the 6″ mark.
Tomorrow it looks like the rain portion of the storm will come. It will probably start as snow, but the models have the day going into the mid-30s and the rain snow line retreating northwest up to about Eagle River.
There isn't a lot of promise for a snowy finish according to the models. They are showing the storm developing  a dry slot over our region after the rain. We could see a little snow, but not much the way that it is shown now. Right now the NWS is calling for an inch tomorrow and an inch tomorrow night.
There is some cold expected behind the storm and into the weekend. The NWS is looking for highs Friday and Saturday in the 10-15º range, with lows of 0 to -5. Sunday it warmsup to +15
The 6″ snow, a dose of rain and a blast of cold sounds like the first installment on a base to me. Looks like winter is here.
I want to give you a reminder that this Saturday is the 10th annual NEW Low Buck Vintage Rider's antique snowmobile show and swap meet.
It will be at Gateway Bar at the stoplight in Crivitz December 7, 2013 8:00 am-5pm. They always have a lot of really spectaclular and one of a kind snowmobiles there. and I have scored a few deals at the swap meet too. Here is a link to a slideshow of vintage snowmobile pictures that I took there last year.
That's news for tonight. Have a good Wednesday and thank you for visiting!
RJB