Greetings and welcome!
We have a mostly cloudy day today. It is 28 degrees at 11:45 heading for a high of about 32, with some gusty winds.
Yesterday stayed below freezing but not by much. The only melting that we had was because of the sun and it was very little. I am kind of happy about the slightly warm temperatures because it will help the snow bond to the ice under it. The snow was a very slippery one on top of the ice, and some bonding would be much appreciated.
I am going to get a little more bonding tomorrow when it goes into the mid-30s in advance of some snow, and maybe a mix, in the afternoon.
I had a lot of hope for tomorrow's storm a week or so ago. It was a classic winter storm setup with a storm out of the south and a clipper that would join it and make a nice snowstorm for us. The storm from the south is now expected to stay well south of the ideal path, leaving us with the clipper and probably an inch or two of snow.
Our two day cold snap is still on track behind the clipper storm. Thursday & Friday should have highs in the teens. Thursday night could go into the teens below zero with -20 to -25 wind chills, and Friday night could get close to zero.
There is a chance of snow Saturday and Saturday night, but no significant accumulation is expected. The weekend looks comfortable for riding with a high of 29 Saturday, 17 Saturday night, and low 30s Sunday.
There is a storm for Sunday night-Tuesday that could bring big snow. The GFS model isn't quite there yet but the European model is showing about 8″ of snow possible. That will be one to watch as it gets closer.
Events this weekend include the Wheeler Lake Ice Fishing Jamboree, the Crooked Lake Fish-O-Rama, and the Red Arrow Townsend Club's (huge) Family Fish-A-Ree.
Wheeler Lake- (Link)-
Wheeler Lake Ice Fishing Jamboree
Date: Feb. 15, 2020
Fishing registration will start at 8AM and all must be registered by 11AM.  The fish will need to be measured by 3PM. Fishing registration and measuring of the fish will take place by the boat landing.  The other portion of the event will be at McCauslin Brook Golf Course. Live music from 11AM-7PM. Paddle Raffles, 50/50 raffles, Cash raffle. For more information contact Lance at lwiedenhoeft@gmail.com. 
Location: Boat Landing at Wheeler Lake, Lakewood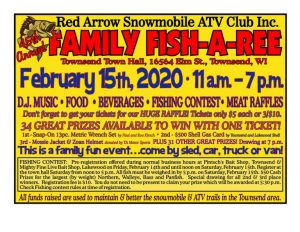 That is it for today. Have a good Tuesday and thank you for visiting!
RJB