Greetings and welcome!
We have a sunny day going on and it is up to 27 at 2pm, but the howling 20-30mph winds make it feel a lot colder. Last night's snow added up to about 4-5″.
When I was on the road for work yesterday I saw trails in Silver Cliff, the High Falls & Caldron Falls Flowages area, Crivitz and Crooked Lake. All of the trails looked great. The paved road trails were 50-50. Where the sun got them they were bare, where they were shaded they had a nice ice & snow base.
The forecast for the weekend has not changed much. The GFS model showed the warm weather moderating a little but the European model and NWS forecasts are holding tight to what I published yesterday. I made a bad noise when I saw Monday's predicted high temp of 44-46ºF on the European model. The NWS is a little more reserved with a prediction of cloudy and 39.
We have really nice trails right now. Hopefully the forecast will change a little and leave them that way. I really don't like the idea of 5 days of 35+ temperatures.
The camper picture shows snow depth as of yesterday. Add about 5″ to it for last night's snow.
Here are a couple of events for this weekend..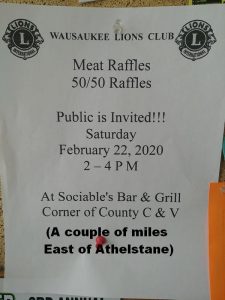 That is all that I have for today. Have a good Tuesday and thank you for visiting!
RJB