5PM- We hit a high of 49 today with some sun. At 5pm (just before sunset) it is still 44.
Yes it got very ugly today. Road trails took it hard. Snirty or stained trails did too. There is some dirt out there. On the other side of it sheltered areas tolerated it pretty well.
The clubs are asking people to stay off of the trails while they are vulnerable. According to the forecast that is about Thursday.
If it all works out we might have one more weekend.
We have an intense but fast moving storm coming for tonight. It is expected to start as rain and switch to snow. It is forecast to be 1-3 or 2-4. Right now heavier totals are looking good on my rapid update models. The TV news just showed is at 3.5″ and close to the 4″ mark. With a low of 29 tonight and borderline upper air temperatures it should be a fairly wet snow.
Tomorrow they are looking for clearing skies and 38. Thursday looks ok with a high of 33. All of this should freeze up Wednesday and Thursday nights when we go down to the mid-teens.
Friday they are looking for partly sunny (same as partly cloudy) and 37. The warm weather sticks around for the weekend with 39 Saturday and 36 Sunday.
There is some light snow possible for Friday night into Saturday. It is low intensity but the GFS has it sticking around into Saturday. The European model has it adding up to an inch or a little more.
I don't know how this all ends. A lot depends on tonight's snow. We probably won't know until late morning how that goes. I will keep you up to date.
Have a good night and thank you for visiting!
RJB
---
1PM- 48ºF and sunny. Not good.
---
Greetings and welcome!
This is not good.
Yesterday we got up to 38 with mixed sun and clouds. The trails took it hard in sunny or thin spots and didn't seem to notice in sheltered areas. Thin spots on the trails got a lot thinner and snirty trails got a lot snirtier.
The side roads that were treated with a salt sand mix had that mix burn through an inch of ice and make a lot of slush. It was a bad day for those road trails.
Last night we got down to 30 for a low, and we are already at 36 with sun at 8am. If we would have frozen hard it would have hardened the base up a little for today's warm day. Today we are expecting increasing clouds and a high of 45. Ouch.
.There is some snow in the forecast for tonight. We are expecting drizzle, freezing drizzle, and then some snow. Forecasts vary from 1-3 to 2-4.
Once the clouds clear mid-day Wednesday we are looking at sunny and 37, Sunny and 32 Thursday, and then sunny and 37 and 39 for Friday and Saturday. That does not sound good for weekend riding.
Yesterday I had a doctor's appointment in Rhinelander late morning. I got a look at trails along Hwy 8 between there and Crandon. They were freshly groomed and just beautiful. As I got closer to home I could see that the railroad grade in Lakewood and Townsend was pretty snirty with a few minor bare or thin spots. The sun will not be kind there. This was looking south from the Lakewood Grocery store at about 3pm. There were darker spots north of that.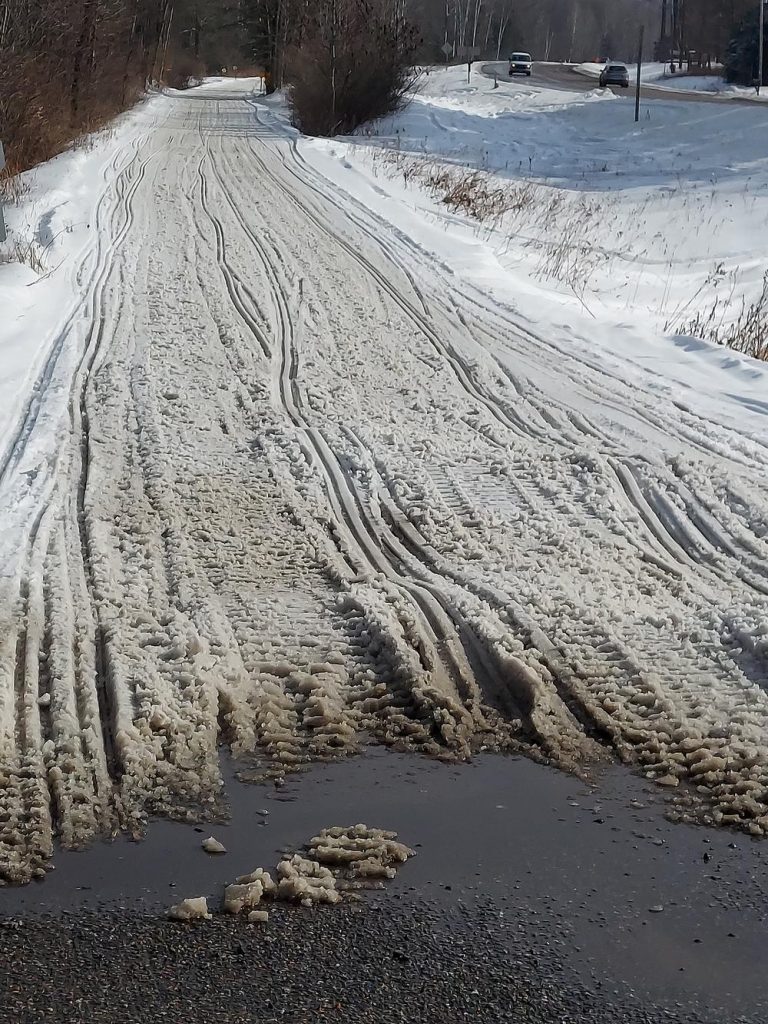 As of 10:20am we are at 46 and sunny. Not good.
Have a good Tuesday and thank you for visiting!
RJB