Greetings and welcome!
It was a cold one this morning. Antigo marked -22ºF and Athelstane Weather marked -24.
As of 11:30 today we are up to about 4ºF.
In my travels yesterday I went to Crivitz and Wausaukee. The trails along the roads (Parkway, Eagle Rd, Deer Lake Rd, Hwy C by Jungle Jims & Rapids, and 141 between Crivitz and Wausaukee) all looked good they had groomed out nice and flat. This morning my trip to Lakewood also found a lot of nice looking trails that were freshly groomed.
Generally the roadside trails looked pretty good and the clubs had done a nice job of grooming. If it was 24º instead of 4º I would likely be fueling up a snow pony right now. I might have to get over that, the cold weather will be with us for a couple of weeks.
There is a chance of some light snow or snow showers Friday and Sunday. Neither is expected to amount to much. The monster storm 16 days out on the GFS model disappeared today.
This weekend is the High Falls Radar Run & Winterfest.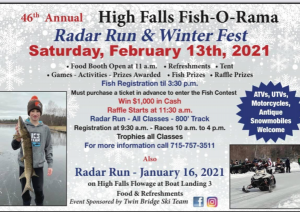 From their Facebook page
High Falls Fish-O-Rama, WinterFest & Radar Run

Saturday, February 13, 3021

We will have a HEATED TENT: Food, Beverages, Raffles, 50/50 & Fish Registration.

We will have outside picnic tables and burn barrels to warm up around.
Car/truck & spectator parking in the red on the left.

Race/trailer parking in the yellow on the right.
They have some cool drone pictures of the track and parking area all plowed out too. It should be an awesome event.
That is about all that I know at the moment. Have a good Tuesday and thank you for visiting!
RJB