Winter Storm WARNING
Greetings and welcome!
9pm- It is still snowing at a good pace. My official driveway measurement is 5-3/4″. We are over halfway through the precipitation on radar, but we should be in the snow for at least the next hour or two. A Pepsi can is 4.75″ high. It was consistently 1″ into the snow. The tape measure confirmed it. I should copyright that Pepsi can picture. That looks pretty refreshing.
8:45pm-See below for my latest 8pm storm update.
This storm is going to be a good one for snow lovers. Looking at what is down and the radar I am pretty confident in a 6-8″ finish. But wait..like a late night infomercial.. it gets better. There is another st0rm behind this one for about Thursday. It is on the same nearly perfect path, and it has even more moisture to work with. A lot more. I tend to have reduced confidence in the forecast models right behind a big storm. At the same time the one two punch of two storms right in a row is a very plausible scenario. All three of the models that I use for guidance are in very good agreement that we will be seeing another significant snow storm.
Time to go measure. RJB
8pm- Good golly it is snowin' now!! It is coming down hard and fast at what I would guess to be well over an inch an hour. I measured 3″ on the porch rail, and 4″ a couple of steps down. There is a lot more coming according to the radar. This is getting big.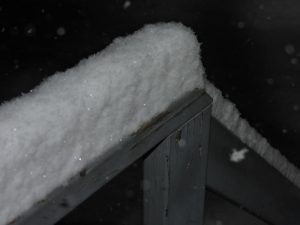 6:30pm- There is easily 1.5″ down, maybe a little more. It is snowing at a medium heavy pace with medium flakes falling fast. My first thought was that this would be hard to drive in with how fast the snow is falling. There is some wind, but not a lot. So far this storm looks like a bullseye.
3:45pm-
We are under a winter storm WARNING for all of Marinette County, most of Oconto Co, and most of eastern WI north of Hwy 64. The way that the storm is lining up on the radar looks very promising. The warning is for 5-8″ by noon tomorrow. It is snowing and we have some light accumulation already in the last 1/2 hour.
The trails that I saw between here and Crivitz all took the ice storm well. One looked a little glazed, and some close to the roads had the road sand thrown onto them by the plow. The one trail behind Citgo in Crivitz looked beat, but the snow tonight will fix that. County highways were fine, side roads were not.
The car radio said that the ice storm did take down power lines and some branches northwest of here yesterday. Laona west to Crandon and Monico and north to Eagle River had some damage and power outages. A total of about 3,000 people lost power and were back up pretty quickly. It could have been a lot worse.
One last though.. My little plan to blow a thin layer of wet snow onto the driveway ice to give it traction worked really well. The driveway was rough and crunchy this morning and getting in and out was a breeze.
I am off to go do some storm prep moving stuff around and throwing in some firewood. I will update on the storm's progress later.
RJB