Wednesday Morning Quick Update-
5am-I just checked the latest model runs. Two are still pushing the storm a little south, but the rest are showing a significant storm. On the low end we are looking at 4-6 and on the high end 10-12″. So far so good..
RJB
Tuesday Night
Greetings and welcome!
We have a lot to talk about today. Let's start with the weather.
There was quite a bit of blowing and drifting behind the storm. I have one spot on the east side of the house that is at least 18″ deep from the snow blowing off of the roof. Hwy A, a north/south road, had a lot of places where snow blew across the road after the county cleaned it up. The cleared driveway had about 1-2″ on it from the back of the storm snow and the drifting. County roads are nice and clear in most spots, town roads are icy with hard packed snow.
Last night we got down to -9ºF, and we had a high temperature of 11 today.
We had a little light snow earlier but it did not amount to much of anything.
Tomorrow we are expecting a high of 24 and a low of  7 tomorrow night.
Thursday the NWS is calling for a couple of inches of snow into Thursday night, with a chance of a little freezing rain mixing in.
Right now the weekend storm is kind of promising, but there are hints of a different track that might not be as favorable to us.
Right now most of my guidance is showing the snow starting Friday afternoon and as much as 6-8, and possibly as much as 10″ Friday night into Saturday. One model showed it tracking a couple of hundred miles south of that path, giving us a possible 2-4. The NWS forecast discussion mentioned that some of their medium range models started showing that too. Hopefully the next model run will get a grip on that.
There is trail opening news. Iron Snowshoe will open gates and start panning and working on trails late this week. Their target opening date is next Wed, 12-15.
The Pemenee River Rider and Dun-Good trails are open. The trail north of Hwy C is a year-round trail so it is open even though they are still working on it. The Ranger City Riders will open some trails Friday.
Here is an image of the county alliance's news as posted on Iron Snowshoe's Facebook page..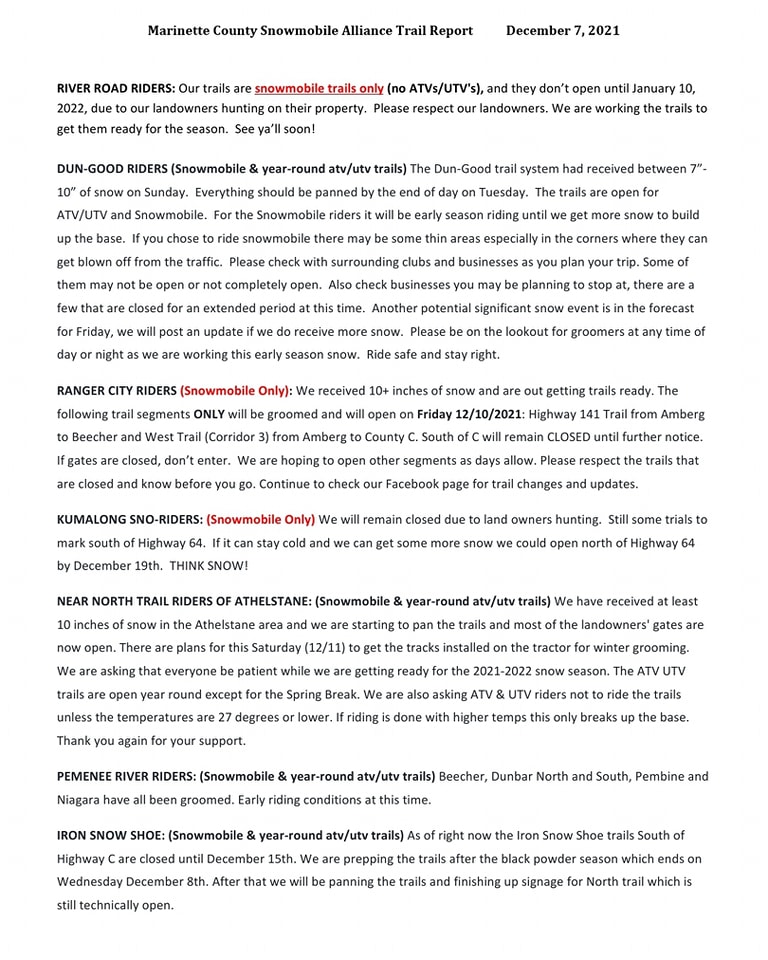 Hopefully the forecast swings our way and we get another fat dose of snow this weekend. That would give us an above normal start to the riding season. That would be a welcome change.
Have a good night and thank you for visiting!
RJB