Greetings and welcome!
We finally have a little bit warmer day today. At 10:15am we are up to 18 degrees off an overnight low of -2. If it weren't for the wind chill (-11) it would feel a lot nicer out than it has for a couple of weeks.
We are expecting increasingly warm temperatures as the week progresses, and the weekend should be downright pleasant for riding. The NWS forecast has Saturday's high temperature for 25 and Sunday's for 31. There is a chance of snow Sunday and Monday.
The bad news is that the temperatures keep rising, and Monday could hit 36. That is not good if it is sunny. Later in the week it could go well beyond that in advance of a storm.
I don't know what the future holds but I would ride as much as possible as soon as possible. There is a more active weather pattern showing up after the weekend so we still have some chances for more good weekends.
I looked it up yesterday and we have 1 hour and 42 minutes more daylight than we did at the December 21st winter solstice. I can tell that the sun is getting warmer by seeing a little melting on roads and sunny spots even though we are in bitter cold. It isn't last call, but as badly as this season has gone for us, who knows?
This is a LaNina year. As I have mentioned before a mild ElNino or LaNina is good for us, strong ones are usually very bad. This is a strong one. I have also mentioned that as the El/La Nina wanes late in the season it can go very well for us. That is not happening. I looked at the latest ENSO update and it is going strong. I highlighted the area that means the most to our weather and you can see that there is a significant temperature anomaly (in blue) still going strong.
I do have an event for the weekend, the Crooked Lake Fish-O-Rama. I believe that there are others.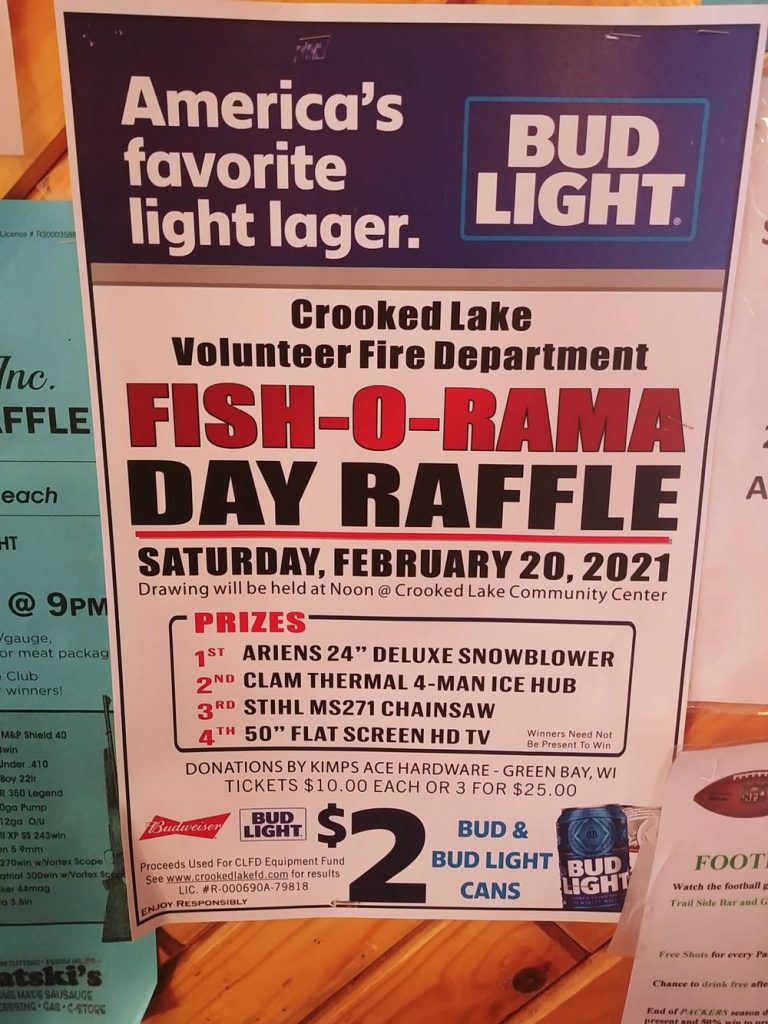 .
This would normally be the weekend of the huge Red Arrow (Townsend) Snowmobile/ATV Club Fish-A-Ree fundraiser with all of the raffles. The event has been cancelled for the covid, but the raffles will still go on at the Red Arrow clubhouse Saturday. There are tons of prizes.
My heart goes out to the people in Texas, Oklahoma, Louisiana, and Mississippi doing hard times with the abnormally cold winter weather. For the first time ever they had winter storm warnings in every county in Texas. Several million people are out of power as they do rotating blackouts. Some places have 8″ or more of snow and no snow removal equipment. Many areas were near or below zero for temps lastnight. I actually saw a temperature of 15F across the border in Mexico.
The bad part is that the single digit temperatures have frozen up the natural gas well heads (the first part of hydrocarbon is HYDRO) causing a natural gas shortage. As they send the remaining gas to people to heat homes, power plants are challenged to keep running. A lot of people are not set up for sub-freezing temps and have exposed plumbing and poor insulation, and the temperatures are as much as 50 degrees below normal. Think about being in a poorly insulated house when it goes down to 15 degrees and the power goes out. You can't leave because the roads are a mess. Farther east they are having ice storms and no road equipment to deal with it.  It is a major, major disaster down there.
I am not planning on being at Rapids this weekend. I have (hopefully) minor surgeries Thursday and Monday. I expect to be back the following weekend.
That is about it for today. Have a good week and thank you for visiting!
RJB