Greetings and welcome!
We have a lot of news today and some events too.
First up Iron Snowshoe Trails are opening Friday morning. I saw that they were out panning trails again Monday. A lot of places have a nice little base, and side roads have mixed ice and bare depending on treatment level. There are some bare south facing hillsides and there is not enough snow to fill in bigger terrain features like ruts or dips. Call it early season conditions. Things get a little better to the north and west as usual.
I expect that more clubs might be opening by the weekend. The Marinette County Snow Trails site usually updates Tuesdays and there will be the official word by clubs later today one way or the other.
That brings us to our next topic- Thursday's snow. The models are still not really carved in stone what the storm will look like. Across the ones that I use we are looking at a minimum of about 4″ of snow and possibly as much as 7-9.That would be a nice way to kick off the season. Depending on which model and run that you use there is a chance of snow over the weekend too. At the moment the European model has that for a couple of inches.
I have three events on the list for Saturday. The first is Ice Bowling at Parkway Inn. The next one is Outhouse Races at Firelane, and the third is two days of antique snowmobiles with Chute Pond.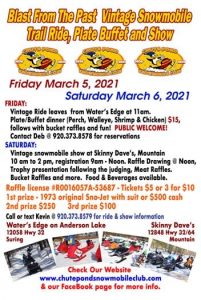 The weather this weekend looks cold.
Friday
Partly sunny, with a high near 14.
Friday Night
Mostly cloudy, with a low around 0.
Saturday
Mostly cloudy, with a high near 12.
Saturday Night
Mostly cloudy, with a low around -6.
Sunday
Partly sunny and cold, with a high near 6.
Sunday Night
Partly cloudy, with a low around -13.
Monday
Mostly sunny and cold, with a high near 7.
I am going to get this posted. I know that there will be a lot more to update as the day and week progress. Have a good week and thank you for visiting!
RJB