Greetings and welcome!
My trip to Lakewood, Townsend, and Carter Monday found very nice looking trails along the road at every crossing. They had nice coverage and they were groomed flat as can be.
Thank you to all of the people that provide trail reports in the comments. I really appreciate it and so do other riders. You guys collectively put on more miles in a weekend than I do in many seasons, and can cover a lot of ground. Once you have a comment approved, your posts go live without moderation, so it is very up to the minute. I like that a lot and really appreciate the people that contribute reports.
We have some snow coming this morning. We should see an inch or so overnight and another one or two tomorrow. There is another clipper for about Wednesday night. It is a little stronger, so we could possibly add 2-4 to today's 1-3. We are not expecting to go much above the mid-20s this week, with Thursday being the exception with low 30s. At that point we should have the nice trails of today plus 3-5″ plus of new frosting for the weekend.
The weekend forecast brings a couple of very different scenarios. Fortunately neither of them are too bad.
The GFS is showing a minor disturbance coming through about Saturday night and temperatures in the 20s.
The European model (ECMWF) is showing a pretty strong Colorado Low type storm coming out of the southwest for about Sunday night. The GFS has flirted with this idea on earlier runs. This scenario would bring warmer air in advance of the storm, and that is where we could see low 30s for Saturday and Sunday.
Right now either scenario sounds pretty good, so I'd give prospects for riding this weekend two thumbs up. We will need to keep an eye on it though.
This is what I have on my event calendar for this weekend. It sure seems like I am missing some.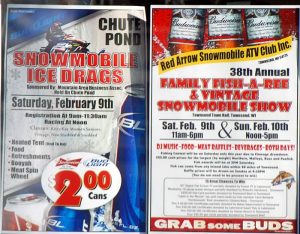 From the NEW Low Buck Vintage Riders web site..
On Saturday, February 9th, the Pemenee River Riders will hold a fundraiser Brat Fry at the Silver Dollar Bar on Hwy 141 in Pembine starting at noon. They'll have a brat lunch, raffles and prizes. Hope you can make it! The Silver Dollar is accessible by sled, atv & utv as well as car.
Please help support the trail system by supporting the clubs' fundraisers!!
Have a good Tuesday and thank you for visiting!
RJB