WOW!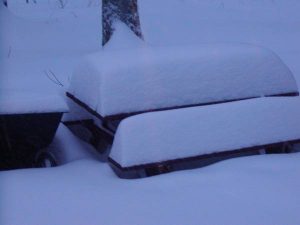 That was an interesting ride home from work! Travel is not recommended right now.
My current measurements around the house are in the 7-8″ range, and it is still coming. The TV reported Lakewood in the 8-9 range, and that sounds pretty close to what I saw.As I mentioned, there is a lot of wind. That makes it hard to get a sound measurement.
Between the wind and snow, it is a good old fashioned snow storm, and for a clipper, it has really picked up some horsepower. Some of the big gusts today brought horizontal snow and near whiteout conditions. They expected it to intensify, but this is more than I expected. Not all surprises are bad.
12:30 Update
This is a heck of a clipper! I'd call it 4-5″ right now, maybe more. It is hard to quantify with the wind blowing it around so much. It will definitely be a good storm for us.
More to follow once I get home from work.
RJB
Greetings and welcome!
My ride last night was really nice, and I got a pleasant surprise on the storm path this morning when I woke up.
The trails last night were in good shape. The groomers had done all that could be done with the snow that we had, and it made for a great ride. The ride took me down through the heart of the flowages on the Iron Snowshoe trails. The windy twisty trail between Rapids and Thorntons is a favorite so that is where I started. It was fast and flat with minimal bumps and only the occasional spot where the groomer had hit/shaved a high spot.
After the flowage area I headed west on Ranch Rd to play on the back roads on the way home. The plowed roads were ok, I only heard from my skis very occasionally. The unplowed stuff was fun, but there were some tire tracks here and there. Overall it as a very fun ride.
Last night when I went to sleep the pending storm was expected to bring us 1-3, with the heavy stuff and storm warnings happening between about Green Bay and Port Washington. This morning the models and the TV agree that the whole thing is getting pushed north.
If you draw a line from the top step in Marinette County east, that is where the TV guys have the line between 3-6 and 5-8. The Predictor animation showed Lakewood in at 6.6″ by the time that it is done.
The NWS has Crivitz under a Winter Storm Warning, and they are expecting 5-7. The same goes for Lakewood and Townsend.
The storm is a clipper system, but it has a big attitude. Not only are snow total expectations higher than normal, they are expecting some wind too. They are talking about 15-25mph winds with gusts to 35 and near whiteout conditions this afternoon.
Looking at the radar I am not as sure as they are about where the heaviest snow will hit, but accumulating snow looks like a sure thing.
Between that, last night's ride, and another clipper or two possible by the weekend, the green light is on for weekend riders.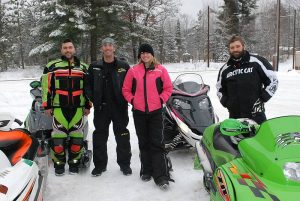 Since it is already snowing and I have a long ride for work I am going to be wrapping it up here and getting an early start. Before I go, here is a picture of some friends from at Rapids Resort last Saturday.
Have a good Tuesday and thank you for visiting! RJB