Greetings and welcome!
It is a cold one. We saw a high temperature today of about -1, but it was about -3 for most of the day. Sunset brought temps of -9 before it was even dark. Now at 1am it is -13 with a -29 wind chill. Rhinelander has -17 right now and is the coldest in the area so far. I would expect to hit about that here overnight.
The record cold temp for today on Athelstane Weather's almanac was -31 in 1984. The TV said that Green Bay had an all time record low today in 1888 with -36.
There are wind chill advisories and warnings out from the NWS, and local schools are either closed tomorrow or starting with a 2 hour delay. From what I saw on the news, Wabeno, Goodman-Armstrong Creek and Florence are closing, Crivitz and Wausaukee are delayed. That could change, so verify in the morning.
Looking at the GFS, it looks like tomorrow and tomorrow night will bring more of the same below zero weather, if not a little colder. We are expecting to get into the teens Thursday and 20s Friday. There is a chance of snow Friday and Saturday that could bring 2-3″, and a chance of in inch or two next Monday.
Next Wednesday there is a very nice looking storm showing up on the GFS model. It has a strong central pressure and a pretty much perfect path for bringing us a 12+ snow. While it is a nice glimmer of hope, it is also 9 days out.
The cold weather isn't pleasant, but it is making frost in the ground and ice on the lakes. We could use that, we had a slow start on both this year.
When I last worked on the RXL I got the Select Monitor software up and running. I adjusted the throttle position sensor which was a little off, but pretty close for using a multimeter. The biggest problem was that the air intake sensor was telling the computer that it was 70 when it should have said about 40.That would trim the fuel injection lean, definitely a bad thing.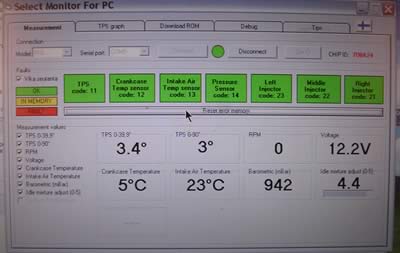 I tested two different sensors and had the same result. When work resumes, I will try a third sensor and try swapping out the brain box. If nothing else I have located a new sensor.
The little bit of snow from the clippers is not enough to heal bare trails, but it is a start. Places that held base over the big thaw look inviting. The couple of inches Friday will probably help a lot, and hopefully it gets way out of hand.
That is it for this morning. I am planning on being back for Wednesday morning with an event listing for the next couple of weekends. There is a lot going on, so stop back in tomorrow.
Have a good Tuesday and thank you for visiting!
RJB