11:30pm-
A check of the latest forecasts and models suggest that we are in for about 3-6 tomorrow, with most of it coming after noon. Even a small move to the north or west could mean bumping it to 5-8 or 9.
1030pm-
I said I'd do events today and here we are.
Ice Bowling at the Parkway Inn- They actually have lanes made of ice set up, pin setters and the whole 27 feet. It is a good party and Rockin' Randy is good too.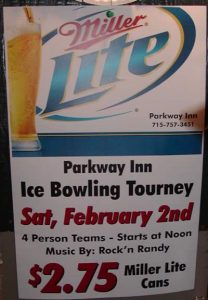 The NEW Low Buck Vintage Riders are going to have a full day Saturday. They have a Ball's Beater Run snowmobile poker run and antique snowmobile show and antique snowmobile raffle coming up. It all happens at Ray's Boneyard in Lena. There is a pig roast, and antique snowmobile suit contest, raffles and a DJ. This is a very big event as seen by the number of places participating in the poker run.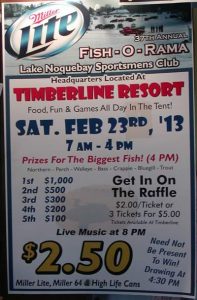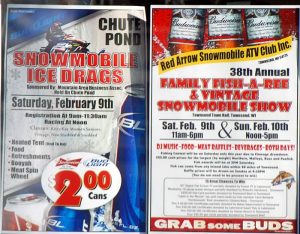 That is all of the posters that I have for upcoming events. Here is the remainder of Chris' event calendar for the season..
Feb. 9
Town of Stephenson Park
on High Falls Flowage
off of Boat Landing 3 Rd.
High Falls Fish-O-Rama, Snowmobile Radar Run & Winter Fest
Fishing contests, snowmobile races and games. Concessions will be served.
Sponsored by the Twin Bridge Ski Team. Call 715-757-3511 for further information.
Feb. 15-17
Patriot Center
Wausau, WI
Central Wisconsin Sports Show
A Family Fishing, Boating, Hunting & Outdoor Expo
February 16
Thorntons
Twin Bridge Area
1st Annual Human Ice Bowling
Benefit for the Stephenson VFD – starts at 2pm – Sponsored by Thornton's Bar.
Two person teams, $10 team entry. One member pushes other team member down the lane on a saucer to see how many inflated bowling pins they can knock down, just like bowling with humans. Huge Meat raffle, D.J.
Feb. 23
Timberline Resort
Lake Noquebay, Crivitz
37th Annual Fish-O-Rama
Heated Tent – Food, Refreshments, Games, Raffles, Prizes
Sponsored by the Lake Noquebay Sportsman's Club
Feb. 23
Zippel Park
Gillett
Finnigan Lake Walleye Club Ice Fishing Derby
8am to 4pm – Food & Refreshments, Raffles & Prizes
6:30pm-
We are under Winter Storm Warnings in Marinette and Oconto Counties. Langlade, Forest,and Florence are under a Winter Weather Advisory.
Right now the best guess is that the storm will be just a little south and east of ideal, and our area will be in for 3-6. From about Crivitz down to Green Bay is expected to be heavier, with 5-9 possible.
Being on the edge of the storm a 60 or 90 mile shift in the storm can meant getting just about skunked and getting piled. It is a monster of a storm, so there is a lot of potential to bring heavy snow to the places that do get hit.
The snow is expected to start out on the heavy side density-wise, and get finer as the storm progresses and brings in more cold air. Being a strong storm there will be some wind and cold on the back of it. The TV says possible blowing and drifting maybe even blizzard conditions at times.
12:36pm- Apparently I never posted my overnight report. It is below.
We are doing pretty good with the warm day and the rain last night. The rain is long over, and so far the day is only up to 36ºF.
Almost all of the snow that was on the ground late yesterday is still there. When I snowblowed the driveway last night I scraped down pretty far. The thin layer of snow is still there, plus a thin layer of ice.
This morning's Winter Storm Watch was looking at "over 6″.." and the current forecast is for 5-8. I am still waiting for the noon forecast model runs to be posted. The 6am version was showing the snow moving a little farther east than earlier versions.
That was reflected in the noon news forecast. The morning version had us for about 8″, the noon version about 6″. Those were Lakewood totals. Areas closer to the lake actually went up.
We are not going to know for sure for about 24 hours. It is supposed to start raining a little later tonight and quickly change to snow. The NWS has us for 1-2 by morning and 4-6 tomorrow for a 5-8 total.
—–
Greetings and welcome!
4am
As I sit down to do my update this morning I am watching the radar on TV. It shows us in a pink area, indicating a rain snow mix. I stuck my head out of the back door, and it definitely isn't pink out there, it is raining. There is a nice glaze of ice on the back step and the ground.
The NWS has a freezing rain advisory out for this morning. That sounds like a good idea. The radar shows a fair amount of rain heading this way. Their prediction of up to 1/10th of an inch came true, and we could get a little more.
There isn't much chance of this all turning to snow today. When I looked at the upper air temperature plots a little while ago the +10C line was as far north as Green Bay. Plus ten C is 50F. Usually when I am looking to establish where the rain snow line will be I try to estimate where the -4C line is. That equates to about 25ºF. In other words we are about 25 degrees out of the money to see this turn to snow.
When I see the +10C line I usually think 45-50 degree day. The forecast for today is for 40-45 here, and 49 in Green Bay.
The HPC QPF is showing us getting in the neighborhood of 1/4 to 1/2″ of rain out of this storm. Looking at the radar that looks about right. There are some darker green areas heading our way. South and west of Lake Winnebago there is even yellow and orange on the radar. Those areas could even see a little thunder.
The area that is getting snow from this storm is west of Lake Superior in northern MN. They have winter storm warnings and so on. From Superior down to about Green Bay it is showing as pink on the radar, and green south of that. Most of northern WI and the UP will see at least a little rain out of this.
So rain and 45 today.
There is some good news though–
Tuesday night the rain is expected to change to snow, and we could see a good bit of it. Right now the NWS is looking at a widespread 2-4. The 6pm GFS and NAM models both are showing us in for a 6″ plus snowfall.
The NAM is showing what I would estimate to be 6-8, the GFS a little more. Here is a look at the NAM for Wednesday afternoon.
As the storm moves to the north and northeast we could see some lake effect snow. The wind will be a cold one and be coming out of the southeast as shown above, and out of the east later. A 988Mb or 992 storm is a pretty good storm, and the isobars are close together, meaning a sharp pressure gradient and some wind.
When I went out yesterday to clear the snow it was very soft. Our 3-5 was 2-3 and it was wet and heavy. There were places where the snow blower could barely pitch it past the intake, and it was grunting at least a little most of the time.
Right now the hope is that it will endure the 45 and rain today and sponge up the moisture. With the fresh snow on top it would pack into a dandy ice base once the single digit and sub-zero temperatures return for Thursday and Friday. That kind of assumes that it survives today.
Rain and 45 is not what we want to see, but I am hoping that it turns to our favor in the form of an ice base.
Will we ride this weekend? Right now everything depends on the rain and warm not getting out of hand, and the snow behind it being plentiful. Right now I think that we have a good chance.
I usually do events on Tuesday but I spent a lot of time on weather research and didn't get to it. I am planning on being back with that and some weather updates later today.
Have a good morning and thank you for visiting!
RJB