Greetings and welcome!
I just can't get over the way that March is going for weather. I was looking at the GFS getting ready for my update, and it looks like an animation from February, not from mid-March. It is really surprising. It is showing clipper after clipper, a couple of bigger storms, and nothing over 40 for two more weeks.
Even this week's forecast is going our way. The one sunny day this week is mostly going to happen overnight. Wednesday is expected to start cloudy and clear up later, have a clear night Wednesday night ( with single digit lows) and increasing clouds Thursday. The highest high temperature is Friday with mid-30s, but it comes with 2-4″ of snow Friday afternoon. Other than Friday the rest of the forecast this week and through the weekend is for low 30s or less for daytime highs.
When I was cleaning up the driveway yesterday I found the snow settled into3-4″ of really heavy stuff with some water under it. Where it was packed down there was a good base. I didn't get to ride yesterday, but the trails have to be in good shape. Tonight's lows in the teens and Wednesday night's single digit lows will lock it all down into a solid base and freeze up any soft spots.
Riding this weekend looks like a lock, and next weekend isn't looking bad according to the GFS. I am not seeing anything much over 40 until the 28th, so don't close the gates or fog the sleds yet.
Here are a couple of event posters..
Monday I was on the road to Rhinelander and back. The reason for that road trip is a new addition to the stable. It is a well cared for 95 RXL with a lot of great features including a long travel suspension. You guys know that I like my RXLs, and this is the cream of the crop, very well outfitted, and in nice shape. I am one happy guy.
Much to my delight, it was also a donation from one of my more generous web site benefactors. He really liked this snowmobile and wanted to see it go to someone that would appreciate it rather than go to someone on Craig's List that would treat it like an old beater. He found the right guy. I really like my RXLs, and this is the one that I have always wanted. I am very appreciative and can't wait to go ride it. Thank you thank you thank you!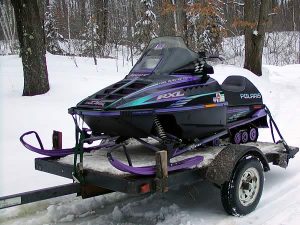 Hopefully later today I will get some carbides for it, check it over and and take it for a spin. To that end I am off to tackle some of tomorrow's indoor work overnight so that I can get an early start outside tomorrow.
Have a good Wednesday and thank you for visiting!
RJB