Greetings and welcome!
The southeastern 1/3 of WI is under a Winter Storm Warning as I type this at 9:30pm. There are several counties around Fon Du Lac, Oshkosh and over toward Wautoma that are under a Blizzard Watch. We are under a Winter Storm Watch for Oconto and Marinette counties, Florence and Forest are not in a warning area yet.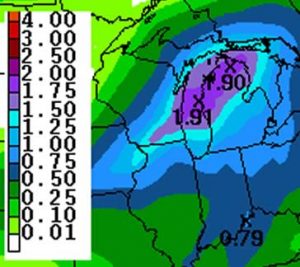 The expectation right now is that we are looking at about 5-8 around here and the 10+ inch areas are from Green Bay south. In other words the storm is expected to go about 100 miles south of ideal.
The GFS and NAM models are still bringing the low pressure center over about Chicago. Ideally it would be between about Milwaukee and Sheboygan. The HPC is still insisting on having it track over central IL, but now they are hooking the storm north at the last minute to go over Chicago.
The Channel 2-2 weather channel out of Green Bay is predicting 8.5″ for Lakewood and 9.3″ for Marinette. The HPC QPF is on board with that, the picture on the left, showing us in the 9-12″ range.
There isn't much question in my mind that it will snow, and we will probably get rideable totals. The question is, will it be 5″ or 15″?  It would make a lot of people very happy if the whole thing hooked north and pounded us instead of the Fox Valley. I'd certainly be one of them.
I am still a little skeptical. At 24 hours out and with pretty good model agreement on the path of the storm the only explanation that I have is that I have seen disappointment too many times as sure thing storms took a right turn and hit somewhere else at the last minute.
Now I can be skeptical, but it doesn't mean that I don't believe. Once I finish up here I am headed out to the shed for a late shift finishing up the Indy Trail, checking over the snow blower, and putting the plow on the truck.
Right now I am wondering the most about my generator parts. Will they come before the storm? Considering the 35-45 mph winds expected with the snow I am planning on needing auxiliary power. If they come tomorrow I'm golden, if they come Thursday it is a question of the mail carrier getting here.
That big wind with the storm is expected to bring white out or even blizzard conditions. Travel might be pretty difficult Thursday and into Friday. The upside to that is there will probably be drifts to play in. Yeee-ha!
Well I am off to the shop. Have a good night and thank you for visiting!
RJB