Greetings and welcome!
We have had some varied weather over the past few days.
Friday night brought a warm front through the area. It came with a little rain, and in the very early hours of Saturday morning there was actually a little snow making the grassy areas white. It was only here and there and didn't last long.
Saturday brought a warmer day but it wasn't a very nice one. It was clear on radar but the mist and fog made it a wet and dreary day.
Sunday brought a warm morning, but the rain came about noon. It was not much at first, but we had some heavy waves. It cleared up a little mid-afternoon, but about 4pm the rain came hot and heavy, along with some strong wind gusts. That was the cold front coming through. Later Sunday night there was again rain and a little snow that made the grass white here and there.
Monday was a very different day with high temperatures in the mid-20s and a cold wind. I went to do my Hwy 32  run to the stores from Lakewood to Carter late afternoon. Between here and Lakewood there were a few spots on the road that were sheltered from the sun by big pines, and there was a light coating of snow on the road.
By the time I got into Carter the road shoulders were mostly white and a little snow was gathering on the road. There actually was a light layer of white on the snowmobile/ATV trail, especially just south of the Valley Inn.
That snow should be there until at least later today. We are at 23 as of midnight and could see 19 overnight. Today's high is expected to be about 36 with a sunny day.
The next 10 days or so look mostly clear and pretty normal for temperatures. By Thursday we are looking at high temps in the mid 40s and lows around 30 right through next weekend. The next chance of rain comes way out in the model on about Thanksgiving.
A couple of frames 15 days out got my interest. Wednesday the 28th would be a very snowy day if they played out as shown. It would be pretty much the perfect snowstorm for us.  It would bring 2+" of precip and possibly as much as 18+ inches of snow. At 15 days out in the model I look at it like a chance to win a fancy sports car in the lotto, fun to think about, but not that likely. You just never know.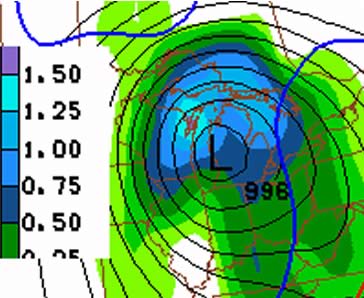 I wouldn't mind seeing that map a few times this winter.
I just checked in on the Unisys sea surface temperature map to see how our El Nino was progressing and was a little surprised. There isn't much warming in the equatorial Pacific at all, in fact it is a little on the cold side. Our El Nino is an El Not so far. Yee ha!~
RJB