Greetings and welcome!
We have been having some interesting weather since my last visit. We have had a couple of cold spells, rain, wind, and a few snow flurries.
Saturday afternoon into Sunday we got some pretty heavy rains. The radar showed dark green and yellow areas passing over our region like cars on a train track. Sunday night's wind knocked power out and knocked down a few dead trees.
The cold weather has been making ice. When I drove by Mud Lake east of Wausaukee Monday it had a skin of ice. A short ride farther east the inlet lake did not have any. Waubee Lake and Townsend Flowage didn't have ice as of Sunday. The car sized puddle in the driveway was probably a half inch thick this morning.
We are getting there, but it has been a windy week. The wind brings a two edged sword. It keeps the lake moving so that it can't freeze up, but at the same time the wind and waves are a very effective cooling mechanism.
We have a little light rain and snow coming up for Wednesday and Wednesday night into Thursday. It isn't much of a storm but it could bring a little snow. There is no snowcover here at all right now.
Late week there is a little better chance for some snow. Friday the GFS has been showing a storm tracking pretty well to give our area snow. Earlier models had it a pretty significant storm. Tonight's check showed it a lot weaker.
The weak version has it bringing maybe an inch or inch and a half to our area, and maybe double that in the favored areas north and west. Earlier versions would have brought a good bit more, and it could flop back.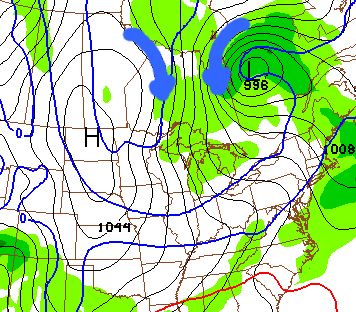 Behind that storm will be the biggest cold wave of the season so far. A setup that I call the oil pump will be pushing a lot of cold Canadian air our way. The setup has low pressure to our east and high pressure to the west. The two circulations combine like an oil pump to push a lot of air.  The close isobars suggests that there will be a decent pressure gradient between them, so a lot of wind too.
The result is a cold windy weekend. Saturday's high of about 25 will be the warmer day. Sunday the high is only expected to be in the low 20s. Friday night look for upper teens, Saturday night could go+10. From the looks of the graphic above I'd expect a brisk north wind too.
That north wind will definitely bring lake effect snow to the UP. It might even be strong enough that a little makes it here.
The overall pattern recently has been suggestive of a very interesting winter. We have seen a lot of precip, and some big temperature swings too. My thought is that it could end up a lot like last year with the incredible base if the precipitation keeps coming and the temperature roller coaster ride keeps going into winter.
More to follow soon..
RJB