Greetings and welcome!
It looks like our friends in central Illinois and central Indiana are in for some snow. Around here we could see a little light snow or flurries from the remote edges of the storm. There is more snow coming on Friday when a clipper system passes through on the front edge of the colder weather. If all goes well that could be a 1-3 or 2-4 inch addition of frosting on our cake. Bring it. If I'm getting the cold at least give us some snow.
Work on the first Indy Trail didn't go very good yesterday. The rear suspension was in perfect shape and the wheels spun like they were mag-lev bearings. I redid that rear suspension last year and it came through in great shape. I tried to start it up and it really put up a fight. In the end I got it started and about a gallon of gas came out of the exhaust. The inside of the impulse line had a little gas in it so I have a new fuel pump rebuild kit on order. I figured all of that out just as the LP tank for the shop heater went dry.. 10 minutes after the place that I get LP refills closed. That was the end of my shop day.
We have a couple of events this weekend. The first one is a meat raffle with the Ranger City Riders at the Sociables Bar a couple of miles east of Athelstane. Here is the ad from the Times Saver..
This weekend is also the first of the High Falls Radar Runs. The Feb 11th one is the big Winterfest and Fish-O-Rama.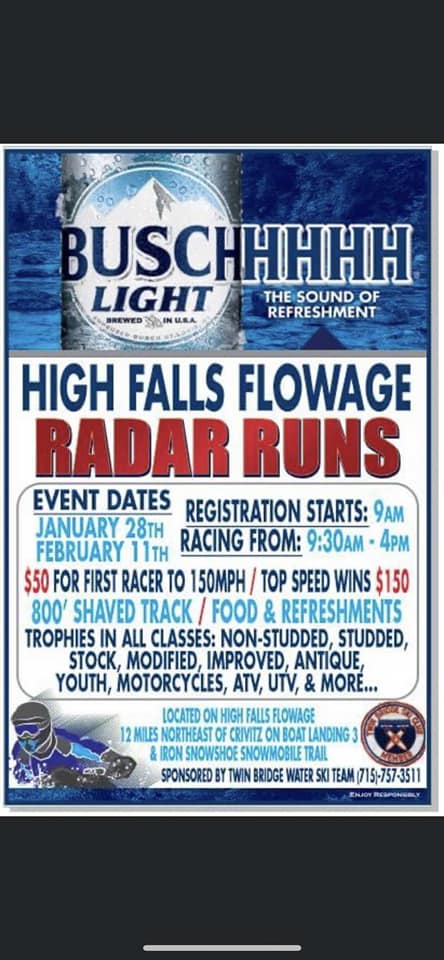 Next weekend (Feb 4th) is the outhouse races at the newly renovated Firelane Bar. There is another big event that weekend but I don't recall what it is at the moment.
This should be a fun weekend ahead this weekend. It will be cold but there will be some fresh snow on already nice trails so it will be worth it.
Have a good Wednesday and thank you for visiting!
RJB
Update #1- A couple of local trail closures to talk about.. First up is Caldron Falls Bar. Don't bother going down that spur trail. They are closed until spring. They have new owners and did a spectacular remodel, but they are closed for the winter.
Item #2 is the trail between Fisher's Camp and Boat Landing 12 by Rapids Resort. That trail is closed while they are logging in there. I have to wonder if they are logging the 'Native Forest Community' that the dirty dogs at the DNR used as an excuse to block an ATV trail from going through there.
Item #3- I missed an event for this weekend- The Paul Bunyan Riders (Lakewood) snowmobile club are having their Snow Fun Day at Waubee Lake Saturday. This is their biggest fundraiser of the year, so if you enjoy their trails stop by and support them. They have a fishoree, 50/50 raffles, a meat raffle, the drawing for their $100 a ticket raffle and more. Here is a link.