Greetings and welcome!
5pm
It has been a bad week for melting. The table never got cleaned off after our last storm. It was at about 8-9″. That got humbled pretty good. Note the slushy layer on the bottom. The hope is that layer will eventually turn to ice and make a base. As you can see from the chair there is still a lot of snow from previous storms.
We are at our high for the day, 45ºF. It is expected to drop to 33 later tonight and some rain could pass through. Green Bay is looking at 60 degree temps overnight and rain with a possible thunderstorm. That 60º is a clear record.
Tomorrow it will get into the upper 30s briefly and then our big thaw will be over.
I have no knowledge of if they will open trails this weekend. Marinette Co snow trails has not updated yet. That isn't surprising, conditions continue to change. Once it all gets evaluated they will keep us informed.
My uninformed guess is that the trails won't open. It will take more than one night to firm up the mess that we have. Some trails are not groomed and panning them would not work at all with the snow this wet and packy. There are likely some low and wet spots too. It takes a lot of work to get the trails ready and this week's weather put a stop to it.
Along that same line.. I saw a post yesterday that the Near North club in Athelstane is looking for volunteers. They need people to work on trails, work on equipment, drive the groomer, all sorts of stuff.  Step up if you can. Those couple of dedicated guys can't do it all.
Read on for my earlier update on the deadly weather..
3pm
Today's warm weather, mist, and fog have gotten really wicked.
The fog is so bad you can only see 30 or 50 feet in places.
That nasty fog has caused some really bad accidents.
There is a major accident on 141 at Hwy CP just south of Hwy 64 where the train tracks cross the highway. The early report is that a dump truck hit the train hard and derailed it, and several other cars were involved too. Details are still coming in. (5pm news said 1 person died)
There is also a multi-vehicle crash on 141 just north of Crivitz at Smith Creek Rd. Facebook reports have a third major accident somewhere in Porterfield.
The side roads were icy yesterday. Now they are worse with the melting, fog, and mist. All of that built up snow that the towns left is now either melted or ice with water on top of it. There was also black ice reported on a couple of county highways.
The Marinette Co sheriff has requested that people not drive until conditions improve.
The fog is expected to improve once the wind picks up later.
The wind..
We are under high wind warnings for tonight. We could see wind gust go to 60-70mph!!
60mph winds? You might want to gas up the generator and make sure that it runs.
Not enough yet?
There is a significant chance of severe weather in western WI, IA, and MN. When you have risk levels this high there is a strong chance of tornadoes or really severe thunderstorms. One forecaster commented that he had never seen level 4 out of 5 severe risk in areas with snow on the ground.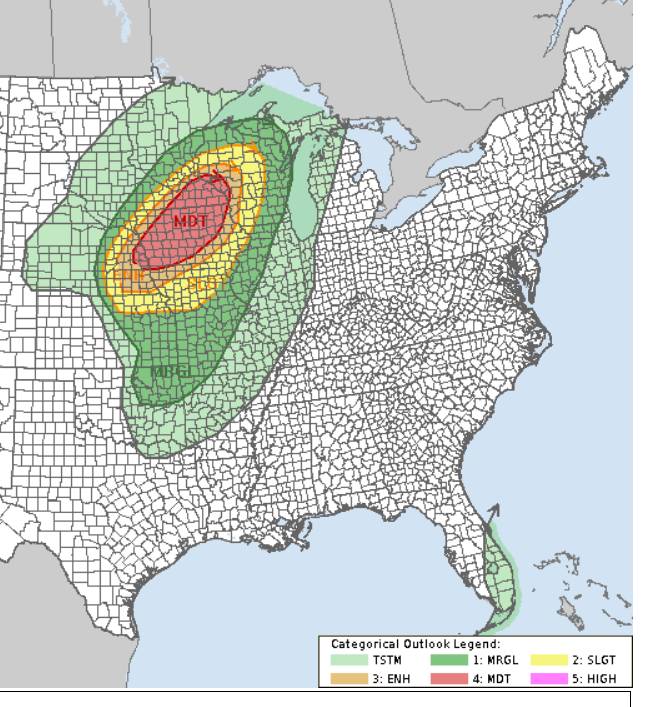 We lost a lot of snow. I will look at that once it is over. For now I wanted to warn people of all of the bad stuff from the weather and fog.
RJB