Greetings and welcome!
Cold is the word of the day. We expect that sort of thing in January and here we are. It has actually been really good for our trails in recent weeks because we have only had small snows from passing clippers. The trail base has held up great and trails are still in very good shape.
I mentioned in Monday's report that the groomer hadn't done the trail to the BP yet. A couple of hours after I posted the update they came through and made it pretty. Good job!
So how cold is it? Right at the peak of the day today we hit 9ºF and it is back to 6. The NWS says that the wind is at 15 gusting to 28. That puts our wind chill between -12 and -17.
Last night we got down to -21. With a 10mph wind that put us at -42F for a wind chill. They delayed schools for two hours so that the kiddies didn't have to stand out and wait for the bus at a -42 wind chill. It didn't help much.
How cold did it get last night? Here is a screen cap from the morning news out of Green Bay's Fox 11 station. These are actual temperatures, not wind chills. It was not a calm night for wind, so that there were some really absurd wind chill numbers beyond these. At -32 and a 10mph wind the wind chill goes to -56F. Thanks anyway I will be working inside today.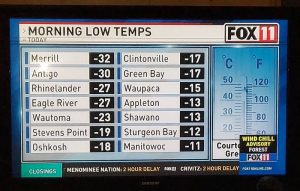 The GFS forecast model has been showing an easing of the cold weather around the end of the month. In the short term we will get some relief tomorrow and Sunday when it gets into the mid 20s, and Thursday and Saturday get into the mid-teens.
While future forecasts offer less cold they can be more volatile with warm temperatures. That also comes with the chance for more snow. We have been seeing a lot of played out clipper systems and an inch of snow, but we haven't had a big storm in a long time. We could see a bigger storm Feb 2 & 3 and more snow farther into the reaches of the 16 day model.
We have some events coming up..
Paul Bunyan Riders Snowmobile Club will hold its annual Snow Fun Day on Saturday, January 29, 2022, inside Waubee Lake Lodge in Lakewood (lower level) in conjunction with its Fisheree. See my Monday update for more info.
Ranger City Riders- Jan 29th – Club Ride/Annual Chili Cook Off and Chili Dump Doors Open 4:00 pm / Club Ride will leave at 9:00 am from the RCR clubhouse.
Next weekend..
Dun-Good Club event- February 5th, Brat Fry @ Rocque's 8-HI Club on Highway 8 in Goodman, starting at 11:00AM with brats, hamburgers and other food and prizes.
The big High Falls Fish-O-Rama & Radar run is two weekends out. There are usually other events that weekend too.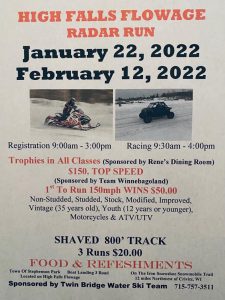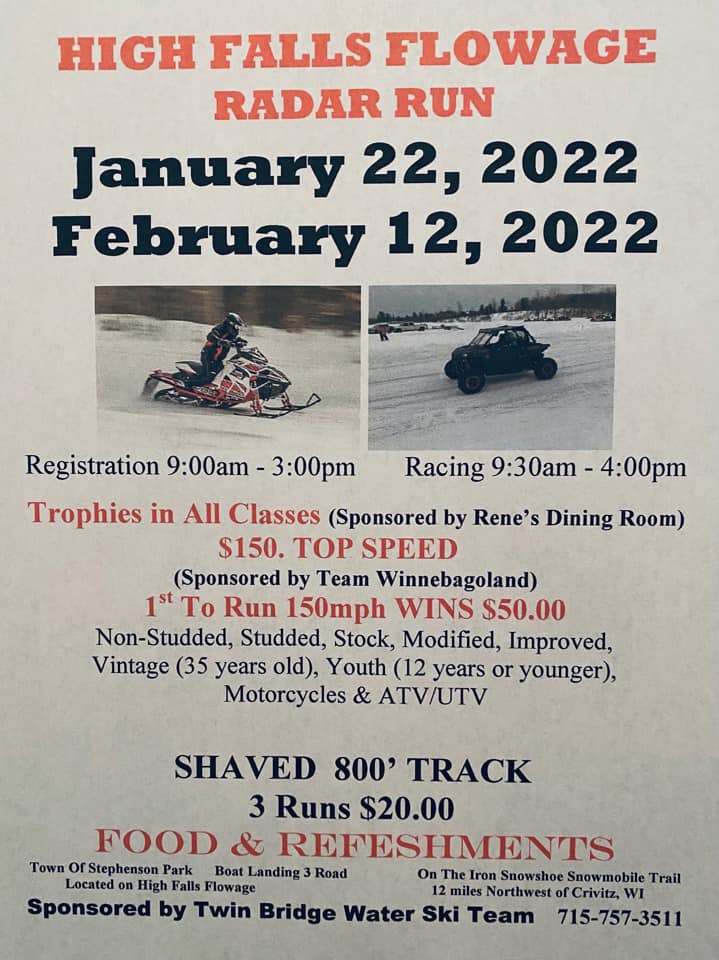 That's news. Have a good mid-week and thank you for visiting.
RJB