Greetings and happy St  Valentine's Day!
Tuesday went pretty good for us. It only got up to about 30 and there was some cloud cover. There really wasn't any obvious melting.
The ice on my road got a little slipperier. I decided that since the snow was soft before a melt/refreeze cycle, I'd push back the top of the snowbanks along the driveway. It didn't take long to figure out that it was a little icy for that. There was a nice inch thick ice base, but not enough  bonded snow for traction.
I am more concerned about the next couple of days. The worst of it looks like it will come today when we could go 4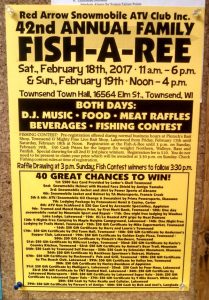 1 and sunny. Thursday's forecast high is 37 but we are expecting clouds.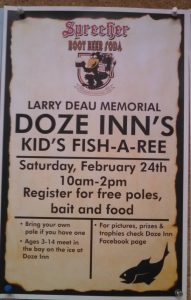 Here are some weekend events..
February 17, 2018 6th Annual Human Ice Bowling & Bed Races starts st 11am- 100% payout for both events. Sign up early. Cabins available on the snowmobile trail. DJ and meat/booze raffles benefiting local charities all day long. At Thornton's Resort 715-757-3311
February 17, 2018 Crooked Lake Fish-O-Rama at Fire House in Crooked Lake
Last but not least there is a big Fish-A-Ree in Townsend with the Red Arrow club both Saturday and Sunday.
Unless we have a huge meltdown I will be at Rapids Resort again Saturday afternoon bar tending, meeting you guys and getting your pictures for the web site. Stop in and say hello!
Well it is time to make the donuts. Have a good St Valentine's Day and thank you for visiting!
RJB