Greetings and welcome!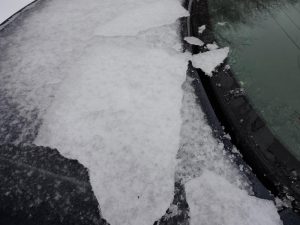 The storm was mostly a bust. I had about 1/4″ of snow and then came almost that much freezing rain to saturate it. When I cleared off my car the whole windshield came off in one big piece. The same happened with the rest of the car.
It made a sturdy little frozen top layer on the ground, but the warm (32ish) day had it soft enough that it would yield a little under my feet. If it stays intact it will help the areas made bare by the sun and warm last week. It isn't the 2-4 that we were hoping for but it was still a positive storm.
When I went to Lakewood yesterday afternoon the groomed trails had an unnatural look to them with them being nice and flat and with the ice layer sort of smoothing out the edges. It just looked different. On the way home I passed the Paul Bunyan groomer out doing his magic.
We sort of lucked out that we didn't have any more ice accumulation. While it would be nice for road trails and side roads we likely would have had problems with trees breaking and taking down power lines. Some pines were already showing heavy branches.
There is more weather on the way later this week. Thursday night into Friday there is a chance of  a repeat of yesterday's storm, with a little snow Thursday night followed by freezing rain Friday morning. That one does not appear to have a lot of moisture to it, so a repeat of yesterday seems like a good guess.
Saturday afternoon into Sunday there is a much better chance of snow, followed by some rain Sunday. The GFS is showing a storm that rapidly intensifies as it gets close to our area Saturday afternoon and evening. The bad part is that it is shown tracking northwest of ideal, putting us in the transition and eventually on the warm side of the storm. Right now it looks like a couple of inches of snow followed by some rain Sunday. I would not be surprised to see the forecast on this one change significantly with it swinging one way or the other.
The other weather item is the weekend temps. The NWS is calling for 37 Saturday and 39 Sunday.
Weekend Events
Saturday we have a big event happening at the Bear Point Yacht Club with Slug Feast. Slug Feast is a trail side picnic where people bring out massive amounts of really good food and offer it up for free. They have a big line of Nesco roasters full of home cooking and standard beverages, and at the end of the line there is a donation bucket. Snowmobilers, being the generous lot that we are, usually hit the donation bucket hard and make it a successful fundraiser for the Bear Point Sno-Cruisers club.
February 24, 2018 High Falls Radar Run Radar run track is 800′ track. Trophies in all classes. Sponsored by the Twin Bridge Water Ski Team. 12 miles NW of Crivitz on Boat Landing 3 Road 715-757-3511
February 24, 2018 Lake Noquebay Fish-O-Rama Timberline Resort on County Hwy GG east of Crivitz. Hosted by Lake Noquebay Angler's Partnership. 3 prizes in 7 fish categories. Food, beverages, contests, game, raffle under large tent. 715-854-2439
The Chute Pond trailside picnic for this Saturday was cancelled due to weather and trail conditions (listed as poor to fair). They will still be having raffles at the Boulder Lake Lodge and Animal's.
That is it for now. I will try to get a better look at some conditions later today. Have a good Wednesday and thank you for visiting!
RJB