Greetings and welcome!
It got down to -6 last night and we are headed for a high of 25 today. We got up to 28 yesterday so the only melting that occurred was the result of the sun. There wasn't much.
My travels yesterday took me from Silver Cliff to Crivitz and west on W to Crooked Lake. All of the trails that I saw looked great except for along W east of Hwy P. There were some thin spots or grass in that area. Roads are nice and dry and are to be avoided, and sunny south facing hillsides are getting sun burned. Generally I found good or excellent conditions elsewhere. Paul Bunyan, Red Arrow, and Dun-Good all are reporting very good or better conditions.
I did see some driveways that were bare ice from the melt-freeze cycle. Some of those looked a little treacherous.
I saw a notice on Facebook yesterday that the big High Falls Radar Run/Winterfest/Fish-O-Rama tent will be set up on the end of Boat Landing #3 Road between the Sportsman's Restaurant and the storage buildings just west of there.
The Crooked Lake Fish-O-Rama is the weekend of the 15th, as is the Red Arrow Fish-A-Ree.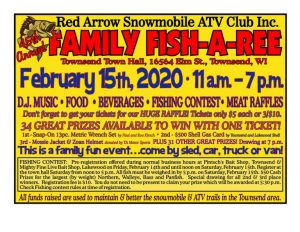 That is about all that I have today. Have a good Wednesday and thank you for visiting!
RJB.