Greetings and welcome!
Dinnertime report
Greetings and welcome!
My latest info hasn't shown much change from this morning. The low is still expected to be too far west to bring us all snow. Now it is a question of how much rain and how much snow. It will be a messy adventure forecasting that. Right now the GFS is optimistic, the HPC and NAM less so.
The TV agrees with the NWS with a little snow tomorrow, 1-3 Thursday night, Friday a mix, Friday night and Saturday back to snow. Total accumulations are forecast at 5-8.
The way that it looks on radar, there will be a leading edge of pretty good snow followed by a mix or rain, then followed by snow. Since it is already snowing downstate, I think that it is safe to say that travel will be a challenge both days over Christmas.
As far as the trails go, hopefully this is the base builder. A good dose of wet snow with some rain to sturdy it up could freeze in a better base. Such is the tradition when we get rain this week.
When I was out today the trails were looking pretty rough. It was a warm and damp day, and it settled the snow into packy stuff. The trails are looking thin, snirty, and a little soft. I would wait to ride until it snows. It might be ok for a shakedown run, but that is about it.
The storm at hand is anyone's guess. It could turn out really bad or really good for snow. It could bring the surprise of mostly snow. None of the scenarios are good for holiday travel.
I worked outside today and actually did get the 4×4 on the truck working. I am pretty happy with the folks at Auto Value in Wausaukee who helped me out big.
I will return in the morning with the latest update.
Have a good night and thank you for visiting!
RJB
Late AM report
Well well well…
Things look very different than they did 10 hours ago. The latest forecast models are showing a whole new scenario. In this edition, the low pressue area comes north, gets forced west, and does a lap around Iowa before moving north toward us as it disperses. It is a fairly unusual scenario, take a look.
The new scenario is also much more favorable for snow in these parts. It should still rain south of 64, but around here we have a Winter Storm Warning..
WIZ013-021-231900-
/O.NEW.KGRB.WS.W.0007.091225T0000Z-091226T0000Z/
NORTHERN MARINETTE-NORTHERN OCONTO-
459 AM CST WED DEC 23 2009

...WINTER STORM WARNING IN EFFECT FROM 6 PM THURSDAY TO 6 PM CST
FRIDAY...

THE NATIONAL WEATHER SERVICE IN GREEN BAY HAS ISSUED A WINTER
STORM WARNING FOR HEAVY SNOW...WHICH IS IN EFFECT FROM 6 PM
THURSDAY TO 6 PM CST FRIDAY.

* PERIODS OF SNOW WILL START THURSDAY AFTERNOON...AND BECOME HEAVY
  AT TIMES THURSDAY NIGHT INTO CHRISTMAS DAY. THE SNOW MAY BE MIXED
  WITH SLEET AT TIMES.

* TOTAL SNOW ACCUMULATIONS OF 6 TO 10 INCHES CAN BE EXPECTED BY
  CHRISTMAS AFTERNOON.

* ROADS WILL BECOME SNOW COVERED AND SLIPPERY ON CHRISTMAS EVE AND
  CHRISTMAS DAY...RESULTING IN HAZARDOUS DRIVING CONDITIONS.

The TV forecast and the HPC forecast are not quite in agreement the NAM and GFS with the lap around Iowa thing. I am not sure if they are living in the past or have different info, but they are staying with the early morning scenario of a lot of rain.
There is a good 24 hours ahead before we will know for sure. That means four more chances for it to change. Most of the models that I use run every 6 hours.
Things that I am sure of- A) We don't know B) Almost every scenario is more favorable for travel Thursday and ugly for travel on Friday.
Today the mission ahead is to get ready for the storm. Item one is fixing the 4×4 on the plow truck. It worked when I parked it, but not the next time that I used it. My bet is an electrical issue not engaging the actuator on the front axle. If the above forecast is true, I may want that fixed. Likewise I have plans to gather up some salt & sand for the ice scenario. Last on the list, but not on my mind, is pulling the RXL into the shop to get it ready.
I mentioned that we had a sugar coated world yesterday morning. Here are a few pictures. Click on them for a better look ( cool new feature..).
And now I am off to go and play outside. I will update later.
Have a good afternoon and thank you for visiting!
RJB
Early AM report
I am pretty sure that I am going to be doing several updates today, the Christmas storm is important to a lot of people, and it keeps changing.
I checked the latest updates a few minutes ago, and two of three sources are showing the storm hitting us mostly as rain. The GFS is in agreement with the HPC and NAM, with the exception of the GFS keeping the rain snow line between here and Green Bay. The others are (more realistically) showing the rain snow line in far western WI.
The way that it is shown, the storm will be very strong when it brings heavy snow and possible blizzard conditions to Iowa, Southern Minnesota, and parts thereabout. As it moves into WI the models show it weakening considerably and almost stalling. It could bring rain, then snow later on Christmas Day, then light snow through the weekend.
It looks like it will rain Thursday, Thursday night, and this is the NAM for Friday Morning. The pink line is a rough guess at the rain/snow line.  This is as bad as it gets, but one more run like that and I am getting out the Mr Yuk stickers.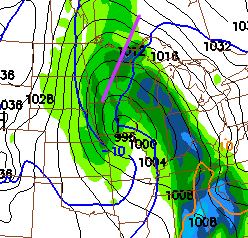 The idea of rain for at least part of the storm is supported somewhat by the forecast high temps of 32 today and 34 Thursday and Friday. That will also aid travel somewhat since the precip would be liquid, and any salt needed is very effective in the mid-30. Places like Parkway Rd where they never use NACL, well.. Go Go Gadget ice skates.. Rain on well frozen roads and bridges might be bad. (M'kay)
I had an interesting surprise Tuesday morning. The world was sugar coated. We must have had some freezing mist or fog or dropped below the dew point Monday night, because everything was covered with a frost. I didn't notice it right away, the sun had taken down most of it around here. The first hint was the car in the ditch down the road. Then I started seeing the frosted trees. It was a pretty good sugar coating, and it was still on everything at noon when I was heading south through Coleman. It was quite scenic, and I was wishing that I had more time to take pictures. I will have a few here later.
Check this out.. Valdez, Alaska saw over five feet of snow in the past week. Here is a link.. Sometimes it snowed 4″ per hour. The article talks about having 5'8″, but another foot came last night. It accumulated so much that it sank a boat. Golly.
Well, the storm watch is on, so I will be back late morning with updates from the latest forecasts. I don't think we are quite sure about this one yet.
Have a good Wednesday and thank you for visiting!
RJB