Sunset Update
The residual snow didn't add up to that much. I ended up with about 8″ here, but a mile away there was at least an extra inch. I will make my official tally 8-9″, though there is probably more in some areas.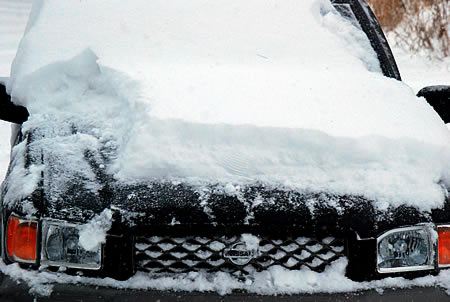 Late Morning  Update
The snow has  slowed down, but according to radar, isn't quite done. Preliminary measurement shows about 8″.
The paper said that Madison got smacked the hardest with 17-18″.
I will return later after I go plow and stuff with a better idea of what we have.
Early AM Report 4:45am
I see on radar that much of the state is getting spanked by the storm. Around here it is not so much the case. As of 4am we have 3-4 inches down and moderate snow. Once in a while there is a gust of wind that blows the snow off of the roof, but there is no roar of wind in the treetops yet.
It has been picking up a little, and radar is showing some heavier stuff on the way. So far it has not been anything close to blizzard conditions. There is still time as the more intense stuff around the low moves this way.