Greetings and welcome!
It is a warmer night than last night. It is only about seven below instead of -14. It is still pretty cold out, but I can tell the difference in how much wood it takes to heat the house. Yesterday we had a high of +6, today it could hit 8 or 10. By the weekend we should see teens and twenties for highs, and early next week, low 30s.
The snow for Thursday night into Friday is looking pretty light. That could go 1-3 or maybe 2-4 if it got carried away. The storm for Sunday afternoon is much more promising, with 3-6 possible. The storm for next Wednesday is still there, but the GFS changed the storm path significantly, and not in our favor. That could change again, and I sort of expect it to, so I am not too concerned with it.
I got word yesterday from Patti that the Dun-Good Trails  are in rideable shape..
Pat groomed on the Dun-Good trails yesterday and he said they are really quite good, hard packed with a few snirty places but generally in good shape. I guess caution on the ice for sleds and atv's 'tho, it's gotta be slippery out there. I don't think any of the adjoining trails are in too good of shape 'tho so getting to Dun-Good's trails would be a problem…trailer I guess and then ride around there for awhile.
The sheltered areas around here that held base look very tempting to ride. It is the areas that got bare in the thaw that are the problem. A lot of the trails were down to dirt or gravel. So far since the thaw we only have an inch or three from the clippers. Places that stayed covered have a nice icy base and some free snow. Bare spots and gravel trails that melted down aren't ready.
You can find spots to get a little riding in, like up by the Dun-Good trails. Lake riding options have opened up since the cold spell. System-wide riding is not an option, but there are riding opportunities. Hopefully the Thursday and Sunday snows get way out of hand and open things up a little.
I promised some events in today's update, and I will include the next few weekends..
This weekend is the Paul Bunyan Riders (Lakewood) Snow Fun Day. They are having a fishoree, meat raffles, 50/50 raffles, a poker run, and all sorts of stuff. It is their main fundraiser for the year and they do a fantastic job on the trails so stop in if you are around. The poster is on the right in the picture, click it to make it larger.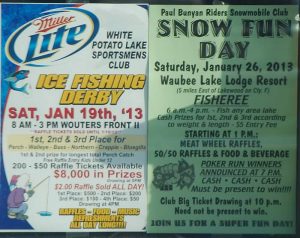 Here are some from Chris' calendar. I will add more below..
Jan. 26

Thornton's Resort
Caldron Falls Flowage
Boat Landing #9

14th Annual Caldron Flowage Snowmobile Radar Run & Fish-o-Ree
Caldron Lake off of Boat Landing #9 – 8am – 4pm
1000′ track, $100 cash top speed, trophies for all classes
Food, Refreshments, Raffles, DJ, Heated Tent
Sponsored by Thornton's Resort – proceeds benefit Town of Stephenson Vol. Fire Dept
Jan. 26
6 to 9 PM
Crivitz Fire Dept.
Annual Ice Skating Party and Christmas Tree Burning
Sponsored by the Crivitz Rescue Squad & the Crivitz Fire Dept.
Hot Chocolate and other Goodies, Family Fun
For more information call 715-854-7666
For Christmas Tree Pick Up call Rudi at 715-927-2359
February 2
Parkway Inn
Twin Bridge Area
Ice Bowling at Parway Inn
Food & Refreshments, Music
Feb. 9
Town of Stephenson Park
on High Falls Flowage
off of Boat Landing 3 Rd.

High Falls Fish-O-Rama, Snowmobile Radar Run & Winter Fest


Fishing contests, snowmobile races and games. Concessions will be served.
Sponsored by the Twin Bridge Ski Team. Call 715-757-3511 for further information.
Upcoming Events with the NEW Low Buck Vintage Riders
January 26, 2013 10:30 am –
January 26, 2013 5:00 pm

January 27, 2013 (All Day)

February 2, 2013 (All Day)

February 2, 2013 (All Day)
The 15th Annual Dun-Good Riders Brat Fry will be held at the 8-HI Club on Hwy 8 in Goodman on February 2, 2013, beginning at 11 AM serving until??? Proceeds benefit the Dun-Good Riders trail system. Accessible by sled, atv or utv (tails permitting) and also by car. Take out brats available. Food, beverages, raffles and lots of family fun. (NOTE: The NEWLBVR plan to ride from the Dun-Good building on Hwy 8 to the brat fry and a return trail ride to Dunbar. We'll leave the building at 11 AM.
.
If you know of events that I missed, comment and I will be glad to add them.
Have a good Wednesday and thank you for visiting!
RJB