Part II
Greetings and welcome!
Sorry about the delay.
Anyway, most of the trails that I saw in the past two days were good enough to ride. They went from pretty marginal in spots to good right around the corner on Iron Snowshoe to looking nice up by Carter.  Again this is in the context of a low snow winter where there isn't much to work with, but you can ride and find conditions if you look past some thin stuff. I do like that the roads have a little ice layer.
In the weather.. It looks like mid-30s tomorrow with a chance of a little light snow Thursday night, followed by low 30s for Friday. Saturday we are looking at mid-20s and a chance of a little light snow Saturday night. Sunday looks cold with highs in the upper teens.
A correction..
The NEW Low Buck Vintage Riders event up at T-Bob's in Laona mentioned here last night was last weekend. I putzed the dates. Thankfully one of the Pats caught it.  Thanks !
Sorry Ray, but the NEWLBVR "pinch" in Laona was last week end on January 21st.
Thanks for mentioning us 'tho. This Sat. there is a vintage ride and radar runs at
Caldron Falls. We sponsor the vinatge class trophies. Ride at 1 PM and anyone can
ride along. If anyone is interested we do have a ride from Florence, thru the Spread
Eagle Barrens to the Chcukwagon in Spread Eagle and then back to Florence via trail
#2, that's going on this SUNDAY, Jan 29th. See our web site
www.newlowbuckvintageriders.com for more info, pics etc.
The last two days work related stuff kept me off of the trail, counter to the plan. Hopefully tomorrow I can got out before the phone rings or something comes up. The sled is ready with gas and oil. It is mostly a matter of topping both off and pulling the rope. That is going to bring pleasant dreams tonight, so I am off to go get started on them.
Have a good night and thank you for visiting!
RJB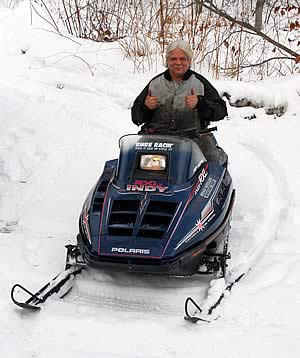 Greetings and welcome!
I have spent a lot of time on the road the last two days and got a pretty good look around. I will have a  few pictures later.
For the most part the trails are rideable.
My trip to Lakewood/Townsend/Carter found mostly good or very good conditions. The trails along F and the RR grade along 32 all looked good. There were some thin spots on the golf course and in grassy or open fields, but it was mostly good to very good. North of about Townsend it looked very nice.
My trip to Twin Bridge and the flowages area found a mix of conditions. A lot of the trail looked good some was thin, some was pretty thin.
The same went for my trip over toward Crooked Lake and back up Caldron Falls Rd.
I did see the Red Arrow groomer out on the grade yesterday about sunset just south of Townsend, and the Iron Snowshoe groomer along Parkway near where the bridge crosses the Peshtigo River between Caldron and High Falls Flowage this afternoon. They are packing trails.
There is a good icy layer on a lot of the back and side roads.
A couple of buts here..
First this is looked at in the context of a crappy winter where we have not seen a 6″ or better snowfall, and have less than a foot on the ground. Standards have been lowered a little.
Along that same line, most grooming involves packing the snow down. Rough trails or trails with big ruts or washouts will still be pretty rugged. There is not enough snow for groomers to fill in those ruts.
Pictures..
As usual the best trails are north and west.
I am going to have to come back wih a part two of my update a little later. I have only been home a little while and I am not up to date on the weather and a few other things. Between that and distractions here, I am going to get this posted and return in a few hours.
RJB