Greetings and welcome!
A lot of people got in a lot of good miles over the weekend. It is fairly rare that we get to ride the stretch between Christmas and New Years Day, but this year worked out pretty well.
There were good and bad trails- Early season conditions. A lot of people took that in stride and got a lot of riding in.
Considering the traffic levels and amount of snow that we have, the trails along F between here and Lakewood and the railroad grade along 32 between Lakewood and Carter looked pretty good. The trails along F had been groomed, and while not perfect, looked pretty good.
While some of the tighter and rockier trails are in pretty thin shape, you wouldn't know it looking out of the truck window in my travels yesterday.
The railroad grade in Lakewood looking north behind the parking lot..
The trail just east of Waubee Lake where it turns into the forest..
The railroad grade in Lakewood looking south from F & 32..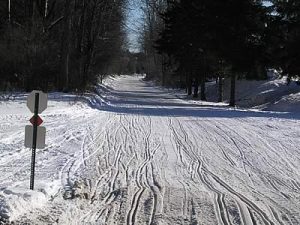 I was using old batteries in the new trail cam, so they gave up after 3 pictures. The trails in Townsend were not blown out and had full coverage, as did the grade all of the way to Valley Inn just south of Carter. There was a little dirt on the hill where the trail crosses the road just south of town, but that was about it for the grade.
What you rode last weekend is what is on tap for next weekend. There is not much for snow and no huge thaws expected.  There is a chance of light snow Wednesday night into Thursday, and again Saturday afternoon or evening. The chances on Thursday look pretty minimal, Saturday could bring light snow or an inch.
Right now the US is plagued by a big dome of high pressure. As the storms come onshore from the Pacific, they get pushed way north. They go over the mountains and drop a lot of their moisture and strength, and come our way as clippers. The same high that pushed them north in the first place is keeping the clippers too far north for us to even get the scraps.
There is a bigger storm possible for the 10th or so. That one isn't looking huge, but it also could look better for storm track. The GFS is showing it tracking over western WI instead of over about Milwaukee or Chicago as would be good. That means mostly rain, and then some snow as it exits. Eight days out is a long time, so that could change.
We have had some cold nights, which is a good thing. It is helping ice on the lakes. There were a few tracks on Waubee as I went by, but only along shore and one run across where the track usually is. The ice is a lot better than it was a week ago, but you will want to be really careful. Get local conditions before you venture out. We are still way behind where we usually are at this time of year.
The week ahead looks like more moderate weather. Look for mid-20s for highs and 10-15 for lows, except on clear nights that could get colder.
There is a little warm up coming for late weekend and early next week, but right now it only looks like low 30s. The warm air in advance of the storm for the 10th is the culprit, but at the moment it doesn't look like too big of a storm or too big of a push of warm air.
While I love the 25 degree days and 0-15º nights, it would be a lot better if we had another foot of base first. Then it would be prime riding.
For now we have to wait for a pattern change before we see meaningful snow. We are a couple of weeks into this one, so hopefully it won't be too long.
Yesterday was my first day off in a while so I made good use of it. Firewood, a trip to town, and some shop time filled the day.
The pretty RXL ran, but still needs a lot of stuff checked. It had a weak cylinder that was intermittent on the last ride of last year. It wasn't terrible, but it wasn't right. I suspected a bad coil, but that didn't play out when I ran it with in-line spark testers.
The first rule of troubleshooting is to check the basics. A compression test revealed that a cylinder was 10lbs lower than the other two, 130, 130 120. That would do it. The EFI is fussy about having a mechanically sound motor behind it. I have over a dozen cylinders in stock and probably a piston and gaskets too. It shouldn't be that big of a drama to see what is up and replace what needs repair.
The laptop interface almost worked. It would ID the EFI chip, but wouldn't acquire the sensor readings. I am going to check the interface wiring one more time, then try a different interface board.
That is about it for this morning.  Have a good Wednesday and thank you for visiting!
RJB