Greetings and welcome!
It looks like we had a high of about 28 today. That made it feel cold, but the sun was up to no good. It still managed to do a little damage in sunny spots.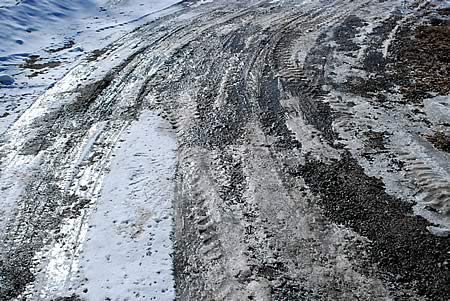 It is getting to be that time of year.
We have some snow on tap for tomorrow and tomorrow night. The NWS is looking for an inch or two in the daytime and another inch or two at night. The TV agrees, putting us in the 4-4.5″ spot.
The weekend looks pretty clear. About Tuesday of next week some light snow should start up in advance of a bigger storm. As shown on the GFS now, we will be sweating the rain/snow line, but also be in the heaviest areas for precip. That one could go 8-12+ if it lines up right.
The storm about a week from Sunday (3/13) looks like a decent sized stom, but the rain/snow line looks like it is about on the north shore of Lake Superior. The big storm for the 16-18th looks about the same way. There are two storms that can go 250 miles south and I'd be happy about it.
Inside work has been keeping me busy so I haven't had a chance to play with the little sled out in the shed. It is a cool little mini-sled from the 70s called a Polaris TC175. It is 10hp and weighs about 200 pounds. I'm looking forward to a ride after I fix the spark problem and a few other minor issues.
What a cool little unit. It has a standard Polaris clutch system, an open chain, a band/drum brake system, and bogie wheels. A guy brought it to me to fix up a little for his daughters, who are probably in grade school. Now I want one. It is so simple and light.
Thank you to the folks that helped ID it, and in the case of the Vintage Pats, a good parts source for antique Polaris parts.
Hopefully I can just clean up the points, fix the kill switch and I am off for a ride.. Maybe tomorrow.
As far as riding, let's see what the new snow brings. If we see 3-4″ it will go a long way on places to the south of 64 that saw snow from the last storm and areas that held some base. It probably won't cure all of the bare stuff farther north and around here, but it will help.It would be great if it got way out of hand and made 7″ like that one Friday night storm did.
That is about it from here. Have a good Wednesday and thank you for visiting!
RJB