Greetings and welcome!
When I did my Lakewood/Townsend/Carter run yesterday I was happy to see great looking trails the whole way. The worst spots that I saw were all right along the road where the plow had tossed some sand/salt onto the trail in the ditch. Even those were only stained.  The rest of the trails along Hwy F and along 32 looked great.
Tuesday stayed cloudy and had a high temperature right at freezing. Most of the day seemed like it was in the upper 20s. I am happy to report that we got one day closer to the weekend and didn't loose anything off of the trails at all.
But wait… like a Ginsu commercial, it gets better.. Today we are looking at another cloudy day, 29-34 for a high temperature, and a shot at some light snow.
Thursday we are expecting a sunny day, and mixed sun and clouds Friday. Those sunny day aren't good in March, but if it stays in the low and mid-30s as forecast we should do ok.
From where I sit, I'd say that having good trails going into the weekend is as close to a lock as you can get this time of year.
The weekend itself is presenting a couple of different scenarios. The NWS forecast has us in the upper 30s with a 40% chance of rain or snow Saturday, and then a 40% chance of snow after midnight.
Looking at the Noon Tuesday GFS model they are pretty much on board with that. They and the HPC agree on a rain and snowfall total of 0.25-0.5″ rainfall equivalent. If it was all snow I'd look for 2-4 or 3-6″. The GFS is showing a very sharp temperature gradient, so the rain/snow line will be close.
The 6pm GFS paints a very different picture. It has the storm going a lot farther north, and bringing 0.75-1.0″ of rain Saturday night into Sunday. This is the first that I have seen of that scenario in the model runs, and a sharp contrast with the other forecasts. For now I think that I will acknowledge the possibility but treat it as an outlier until subsequent model runs either go in that direction or this one comes back to where the others are.
The NAM model doesn't reach past Saturday 6am right now, so that one isn't much help tonight, but will be showing Saturday later today.
The European model is on board with the NWS, HPC and earlier model runs for Saturday, but keeps the storm a little farther south, and us in a little colder air. I want that one.
So.. I am pretty comfortable that we will have good trails when the weekend gets here. The picture gets a little fuzzier after that. My gut tells me that we will be fine and have a great weekend.
This weekend the NEW Low Buck Vintage Riders are having a hot dog ride to get one last event in for the season. The ride starts at the the Dun-Good Riders clubhouse on Hwy 8 in Dunbar at 10:30am Saturday. Check out their web site for a picture of what the trails are like up on the Dun-Good system. That is heaven.
I pulled the little Indy Trail into the shop yesterday afternoon for a track swap and a noisy final drive. As it turns out it was ready for slides, had an iffy wheel bearing, and it had a failing speedometer side track drive shaft bearing. It was well timed. None had failed, but they were clearly ready for service.
One of the things I  like about my old Polaris snowmobiles is that they are pretty easy to work on. It wasn't as big of a job as it sounds like. The locking collar bearing needed to be cut off, but BTDT and it only took a couple of minutes. I spent extra time on the suspension because I hadn't been in this one yet, and made sure that everything was lubed, working freely, and just so.
The one mistake that I made was not buying slides in town Tuesday. I was hoping for some cheap aftermarkets that I wouldn't mind sacrificing to March roads at $12 each. All that they had left were the nicer ones, so I figured I'd try to get the last couple of rides on on the ones that I had.  Bad call. I will be back for them in a little while. I can get them a little cheaper in 3 days, but I'd rather ride today.
The old track had a lug profile that I didn't like. It did ok on the trails but was not much in the powder. It actually ramped up on the pushing side of the track lugs, and had a little bit of a cup on the stopping side. It was s slippery track on the go side.
I could have turned it around and had better traction, but then it would stop like a toboggan. The replacement track has a more vertical lug profile on both sides and a little more aggressive lug. Eventually I will stud the old track and put it back on. It is a good track, it is just slippery.
Here are some more pictures..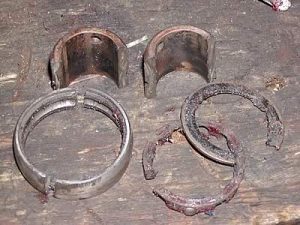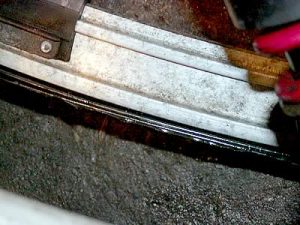 That is about it for today. Have a good Wednesday and thank you for visiting!
RJB