Greetings and welcome!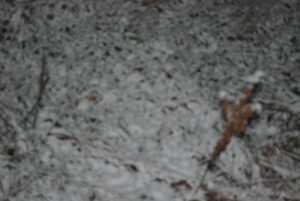 We have another milestone tonight, white ground in Silver Cliff. This was taken just before 10pm Wednesday night.
It is a pretty good storm and we happen to be in that NE most area that is getting snow. So far it is just enough to cover grassy areas, but it could go an inch or two by morning, maybe even 3 in some spots..
Shortly after my last report we had a pretty cold night and there was indeed ice on the big driveway puddle. Likewise, a bottle of water outside was pretty much frozen solid. Someone reported the first skin ice on a sheltered area of a lake too. We are getting there.
The weather ahead looks cold with highs in the 30s and lows in the 20s for the weekend. The Green Bay all weather channel 2-2 is showing a high of 31 and a low of 18 next Wednesday. The 16 day GFS is showing mostly weather out of the northwest and a lot of clippers, cold air and clipper snow. The lake effect snow belt of the UP and north central WI could see a lot of snow by deer hunting.
6:45am Thursday- It ended up being an inch to an inch and a half, mostly on grassy areas. Looks like it won't be around long.
More to follow..
RJB