Greetings and happy new year!
We are off to a cold start in our new year. Last night we got down to -17, and with a little breeze the wind chills were in the -30 to -40 range. Tonight will be pretty similar, but a few degrees warmer.
Tuesday and Wednesday we could see daytime temps rise into the low teens, but as happens with so many warmer days around here, they will come with some wind. Tomorrow we could hit 12 but with a 15-20mph wind it will still feel cold.
I have been looking at the GFS forecast model hoping that our cold weather will break and we can get into a more active pattern that might bring snow. The polar circulation seems to be pretty settled where it is, and the GFS doesn't show it changing much until next weekend. Once it does, hopefully the prediction of more normal temperatures and a chance at some snow will come true.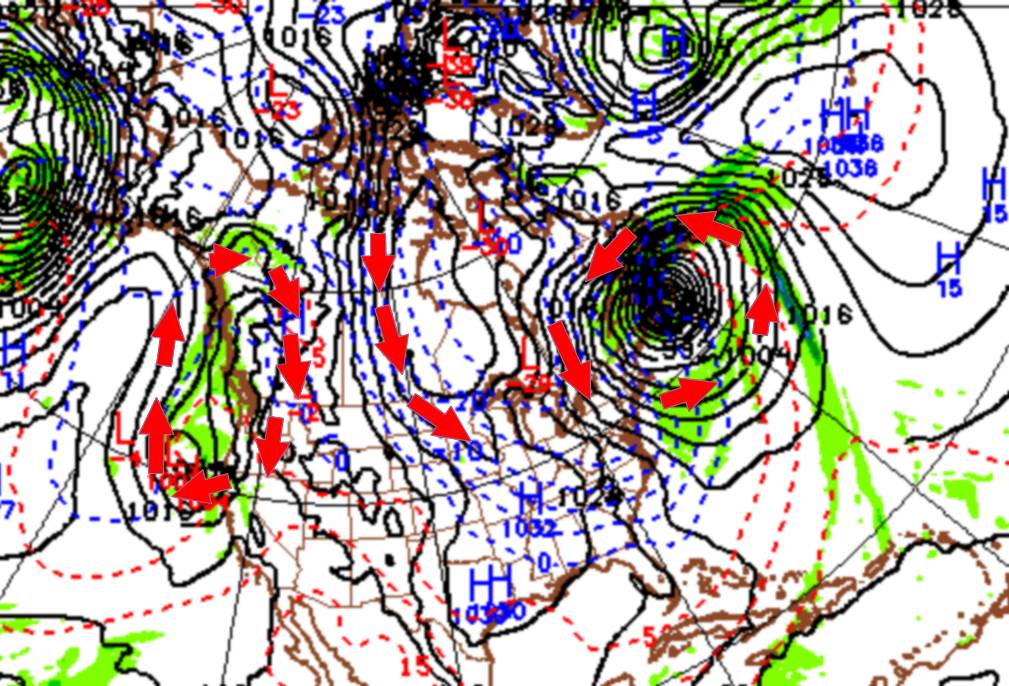 In the meantime we are stuck in a classic pattern that I call The Cold Pump. With high pressure to our west and low pressure to the east the two systems work together like a twin gear oil pump and they pump a river of cold air right off of the north pole down into the Midwest.
As long as we are stuck in this pattern there is little chance of snow beyond a small disturbance that could bring a 1/2″ or so Wednesday. We are set for cold though. Green Bay's normal high today is around 25, they are looking at single digit highs today and Thursday-Saturday.
We have frozen up nicely with the cold that we have had since Christmas Eve. Now I am ready for some snow. There is a small chance Wednesday, and the Sunday storm actually looks like it could bring a few inches. Hopefully that Sunday storm is the one that pulls the rope on the season and gets us riding.
Tonight just after sunset we have a full moon, and it is a 'super moon' where it is closest to earth (Perigee) in its orbit, so it will look extra large and extra bright. It is also one of two full moons this month, making the Jan 30 & 31 full moon a blue moon.
I am off to capitalize on the heat of the day (+8F) and get some stuff done outside. Have a good Monday, happy new year, and thank you for visiting!
RJB