Greetings and welcome!
We had a little snow this morning. It added up to about 1/2″. On the metal rail out front it is already gone. On the wood deck rail it is melting more slowly. It is 35 at 9:45am.
The big news today is that all of the Oconto Co trails will close for the season Sunday at midnight. Red Arrow is reporting some good trails in the woods and lots of dirt in sunny spots. The best reports are from The Dun-Good trails who are still reporting good conditions.
We have a warm weekend ahead. We are looking at sunny and 50 on Saturday and sunny and 56 Sunday. That does not sound very snowmobile friendly.
It is very likely that I will not be at Rapids this Saturday. I have been out sick this week and am not over it yet. Maybe I will turn a corner after my visit to the doc today, but right now I expect to still be self quarantined. Some things I don't want to share with my friends.
We have an event for this weekend.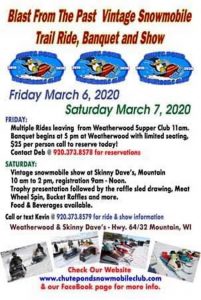 I will be back once I feel a little better and the brain fog clears.
Have a good weekend and thank you for visiting!
RJB