Greetings and welcome!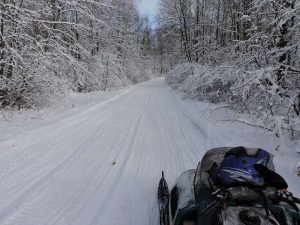 I took the Indy Trail out for its first ride of the year. Until I trust it a little I usually stick to the roads for the first few miles where it is an easy recovery if I had a breakdown. Everything went great and I had a blast. I took Landing 11 to Buck's Ranch to Chickadee, up to North Fork Rd and back, across to Landing 11 on the F trail, and over toward Rapids Resort before heading home. I would guess it at about 20 miles or maybe a little more.
The roads had a nice layer of ice on them and a little free snow. I was still dipping it in the snowbank every so often. Chickadee was half and half. The right half was nicely groomed with plenty of free snow. The left half was plowed down to the ice. The F trail across to Landing 11 was great, and so was the F toward Rapids. Sure there were a few spots that the groomer hit a high spot or there was a bump or two where the trail is rough, but I enjoyed  a good ride with plenty of free snow on the trails.
Here are some pictures..
https://bigsnowpage.com/index.php/1-24-18-ride-pictures/
Now I am off to go and look after that must-do stuff that I blew off to go riding.. No Regrets.. except that I didn't have a friend along so that I could go another 100 miles..
Have a good night and thank you for visiting!
RJB