Greetings and welcome!
11pm
I added the donations button to the lower right side column tonight. This is a labor of love done because of all of the wonderful friends and new people that it has brought, but your donations definitely help to keep this going. You have been very generous in the past and I am greatly appreciative of all donations large and small. Each donation will get your name listed under the donations button and a personal thank you e-mail from me. Thank you! RJB
9:30PM
Looking out of the window I see about an additional 1/2″ since I cleared the car and porch rail off at about 3pm. That would make my unofficial total 6.5″. Reports from across the area came in at 6″ and they probably had the little extra too.
Jeremy from Crivitz commented that they had 8″. The TV just said that Wausaukee had 7.5 and Lena had 9″.
It is a very fine snow, so it will settle. The amount of it worked the snowblower a little, so I would expect it to pack down into a couple of inches of base once it consolidates. It is a good start.
2:30pm
There has been very little additional snow since the 1pm measurements.
---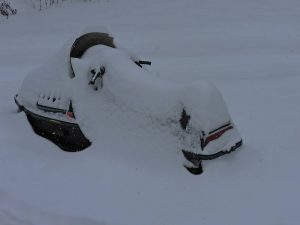 1PM
The snow is slowing down a little and the wind is kicking up. There are breaks in the snow on the radar, but there could be more coming later.
I just went out and measured in a variety of spots in the yard, driveway and work shed area. The lowest total that I got was 7″ the highest was 8.5″ and most were between 7 & 8″. I am going with 7.5″ on the ground, 6+ of it from this storm.
Boiling mad after a 4 hour battle of one problem after the next with the plow truck. I just got 1 back n forth pass on the 1/4 mile driveway and the road plow pile. If ammo wasn't so expensive…
11am
It is a good thing that I don't live a mile and a half south of here or I'd be in a winter storm warning area. They have to draw the line somewhere..
Looks like southern Marinette, southern Oconto, Brown, Kewaunee, and Door Counties are under a winter storm warning now.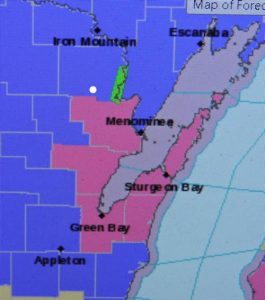 10:30am
I have about 5″ on the car, measuring around the front yard I consistently have 6.5″, but there was 1-1.5″ down before today's snow.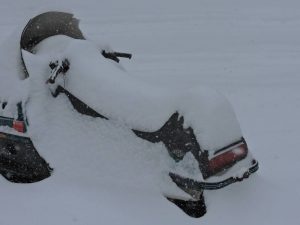 8:30am
Getting up to about 2″.
7:30am
I have about an inch of new snow down as of 7:30am. The NWS is now looking for about 5″ of daytime snow accumulation. The snow is a very fine powder because it is only about 14 degrees outside. We could see bigger flakes once the day warms up and we start seeing Lake Michigan lake effect snow.
RJB